A police officer from Pennsylvania has become an Internet hero after a picture of him carrying an injured German Shepherd went viral.
Patrolman Nick Ague was making sure that the dog got back home on Sunday after she fled from a vehicle that had been involved in a crash, the South Londonderry Township Police wrote on Facebook.
(Story Continues Below)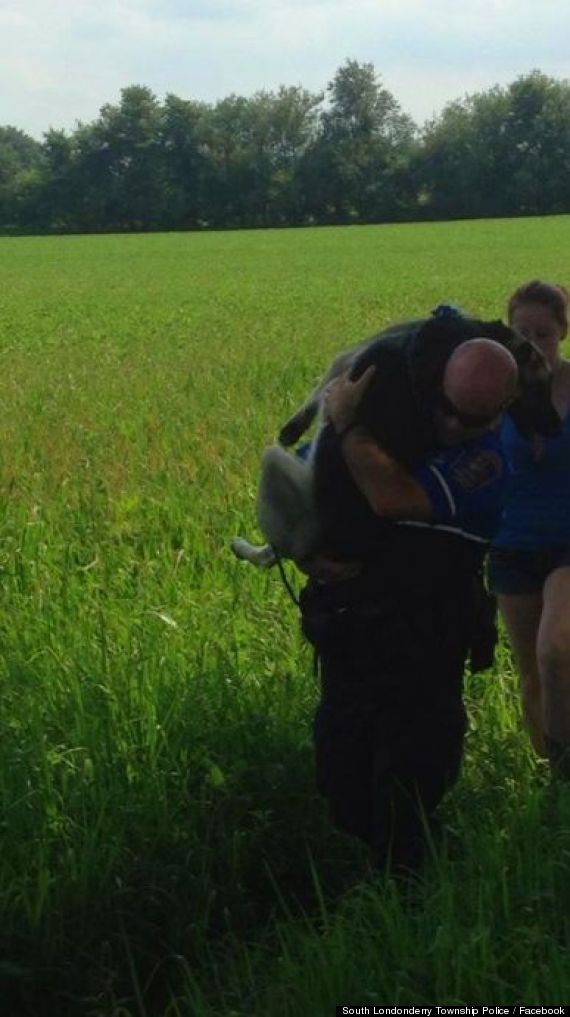 When officers caught up with the German Shepherd, the dog was not willing to walk.
"The dog was not moving because the skin on the pads of her feet was hanging, presumably because of the distance she ran," Ague told ABCNews.com. "She ran two miles from the crash on hot asphalt."
So Patrolman Ague carried the 75-pound dog, who he later learned was called Mya, about 100 yards to her owner's car.
The photo, posted on Sunday, has since received more than 1,000 likes, nearly 6,000 shares, and more than 600 comments.
"Thank you so much for going above and beyond your duty!!" one Facebook user wrote. "God bless you Officer Ague!!!"
The patrolman, who also owns a German Shepherd, told ABC that as "a huge animal lover," he had no choice but to save Mya.
"Just putting myself in the owner's shoes, I would not want to be in that situation," he said. "I tried to right any wrong and do what I hoped someone would do for me."

Also on HuffPost:
Loading Slideshow
A dog named Shaggy is handed from a National Guard truck to National Guard personnel after the dog and his owner left a flooded building in Hoboken, N.J., Wednesday, Oct. 31, 2012, in the wake of Hurricane Sandy. Some residents and pets are being plucked from their homes by large trucks as parts of the city are still covered in standing water.

An emergency responder helps evacuate two people and their dog with a boat, after their neighborhood experienced flooding on October 30, 2012, in Little Ferry, New Jersey.

With the aid of New Jersey state police, a man walks with his dog to a National Guard vehicle after leaving his flooded home at the Metropolitan Trailer Park in Moonachie, N.J., on Tuesday.

An fireman carries a resident's dog to safety from flood waters brought on by Hurricane Sandy in Little Ferry, New Jersey, October 30, 2012.

Fireman rescues a dog from Hurricane Sandy.

A resident and his dog are evacuated on Tuesday from a neighborhood in Little Ferry, N.J., one day after Hurricane Sandy slammed the East Coast.

These residents of Little Ferry, N.J., also evacuated on Tuesday with their dog.

Sarah Korman and Michael Cunba, who evacuated their home in Long Beach, N.Y., bring their dogs Jade, left, and Ava to a pet shelter at Mitchell Park's Field House, run by the Nassau County Office of Emergency Management and Pet Safe Coalition on Sunday, Oct., 28, 2012, in Uniondale, N.Y.

Owners and their pets prepare to evacuate for Hurricane Sandy.

This dog was ready to be rescued!