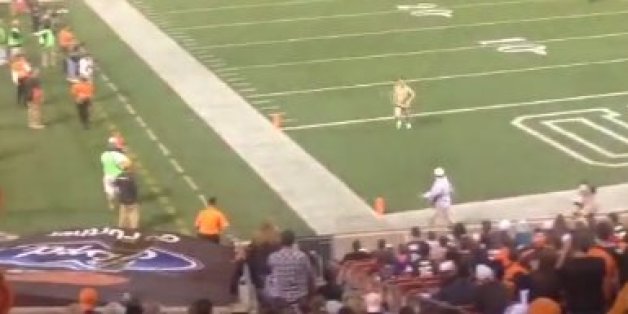 A streaker stormed the field during the third quarter of a preseason game between the Detroit Lions and Browns at First Energy Stadium in Cleveland on Thursday night. His full-speed, drawers-dropped frolic concluded with a kick and a shoulder tackle.
Suggesting that he was already in midseason form, the streaker reportedly shrugged off a pair of hits from Lions running back Joique Bell.
We had a streaker on field at FirstEnergy Stadium. Knocked down twice by #Lions RB Joique Bell. Kept going before cops tackled him by tunnel
Streaker ran onto the field and Lions Joique Bell hit him twice. He was lucky James Harrison was in Cincy.
Anyone looking to see this streak from multiple angles is in luck because fans in attendance were sharing images of the moment via social media.
SUBSCRIBE TO & FOLLOW THE MORNING EMAIL
Get top stories and blog posts emailed to me each day. Newsletters may offer personalized content or advertisements. Learn more