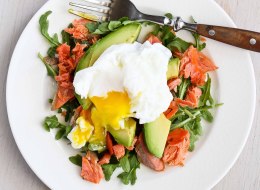 We've been unfair. We didn't mean to, but we've neglected an entire part of the day in which you can throw a party and feed your friends. Yeah, we're talking about morning. Late morning, if you're like us.
As people who complain about brunch will usually tell you, it's a way for restaurants to use up ingredients that have been sitting around, give their weakest link line cooks some hours and generally sling overpriced eggs and mimosas into your face. Brunch at home, however, is completely the opposite. When you make brunch for yourself and your friends, you are pointedly taking time out to do something really special. Dinner parties are special, but we all eat dinner. When you invite friends over for brunch, you are automatically making their day more luxurious by making sure they eat something amazing right away, not just another bowl of granola. We've compiled some of the most show-stopping, jaw-dropping brunch recipes we could find. Happy brunch partying!
Want to read more from HuffPost Taste? Follow us on Twitter, Facebook, Pinterest and Tumblr.
Get the Ham and Cheese Waffles recipe from Macheesmo That's right -- ham and cheese get baked right into the waffles.

Get the Blueberry Maple Breakfast Bake recipe from Simply Recipes "This is one of those great party brunch casseroles. It's easy to assemble the night before and just pop in the oven an hour before needed in the morning." -- Elise, from Simply Recipes

Get the Breakfast Potato Cups recipe from Macheesmo

Get Alex Raij's Croissants a la Plancha recipe from Food52 Love croissants? You'll love them split and griddled in butter even more.

Get the Eggs Nested in Sautéed Chard and Mushrooms recipe from Simply Recipes These eggs get steam-poached right on top of your cooking vegetables. Easy and delicious all at once.

Get the Chipotle Chilaquiles recipe from Macheesmo Chilaquiles are a genius way to turn stale tortillas into a delicious brunch dish. The tortilla strips are tossed in chile sauce and cooked up with eggs, cheese and fresh herbs.

Get the Cinnamon Roll Waffles recipe from Pass The Sushi

Get the Kale, Mushroom and Cheddar Bake recipe from Simply Recipes

Get David Eyre's Pancake recipe from Food52 This huge, crispy, light-as-air pancake is basically a Dutch baby.

Get the Huevos with Red recipe from Chronicles of a Stomach Grumble Warming red chile sauce slathers over easy eggs and corn tortillas. Your hangover doesn't stand a chance.

Get the Blueberry Almond Breakfast Polenta recipe from Food52

Get the Corn Cakes with Avocado Cream recipe from A Spicy Perspective

Get the Loco Moco recipe from Macheesmo This Hawaiian comfort food dish of rice, ground beef and eggs will satisfy even the biggest brunch appetite.

Get the Lox Flatbreads recipe from A Beautiful Mess

Get the Early Bird Breakfast Tacos recipe from Food52

Get the Cherry Cheese Hand Pies recipe from Foodie Crush

Get the Shakshuka with Summer Squash, Spinach and Goat Cheese recipe from Food52 This classic Israeli brunch is one of our favorite easy recipes. The eggs poach right in the tomato sauce, which means there's only one pan to clean.

Get the Roasted Strawberry Brown Butter Pancakes from How Sweet It Is

Get the Poached Eggs Over Avocado & Smoked Salmon recipe from Cookin' Canuck

Get the Peanut Butter Glazed Chocolate Doughnuts recipe from Buns In My Oven Hate deep-frying at home? Never fear, these doughnuts are baked. Ssh, don't tell anyone. They're still totally delicious.

Get the Skillet Blueberry Cobbler with Cheddar Biscuit Crust from How Sweet It Is

Get the Strawberry Bruschetta Grilled Cheese recipe from Foodie Crush

Get the Black Pepper Popovers with Chives and Parmesan recipe from Food52

Get the Mexican Breakfast Hash recipe from Food52 Potatoes, chorizo, eggs and chiles. Everything you need to face the day.

Get the Turkish(ish) Breakfast recipe from Food52 In Turkey, thick, creamy yogurt makes an appearance at just about every meal. Brunch is no exception.

Get the Almond Cake with Orange-Flower Water Syrup recipe from Food52

Get the Zucchini Breakfast Casserole recipe from Simply Recipes

Get the Strawberry Apricot Breakfast Crisp recipe from Food52

Get the Potato & Corn Frittata recipe

Perfect brunch porn. Plain and simple.