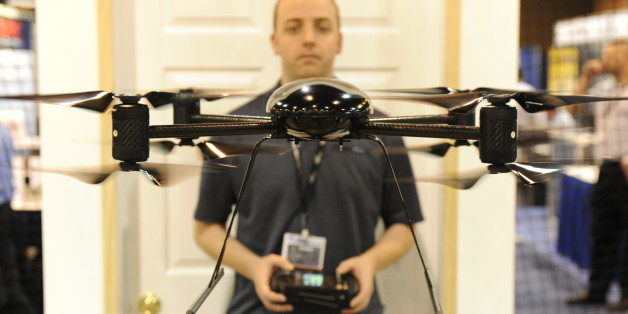 WASHINGTON, D.C. -- This is Peter DeNucci's first year at the Unmanned Systems exhibition, the world's largest conference for the drone and robotics industry, and the former US Airways pilot is beaming like a kid who's just met Mickey. He's researched drones, he's even studied drones, but nothing compares to the feeling of actually being around all these drones -- solar-powered drones, styrofoam drones, self-assembling drones, drones that fly in swarms, drones that can stay up for days and drones that can spot plastic buried in the ground.
"It's like reading about Disney, and then you get there," DeNucci said, looking with longing at a $350,000 Scion helicopter he hopes one day he'll be able to afford. "There's so much cool stuff out there that I didn't even know it was realistically possible to do."
While the American public has focused their outrage on the drones flying over Afghanistan and Pakistan, the people here in military uniforms and dark suits are already charting the timeline for sending unmanned planes to circle U.S. cities. Pause long enough at any booth, and you'll get a laundry list of potential uses for domestic drones: They'll give traffic reports, spray crops, save swimmers, deliver packages, film Hollywood hits, track animals and catch criminals, people predict.
The exhibition's attendees exude the confident delight of miners who've hightailed it to California just as the gold rush is starting. They can see ahead to the day -- only a matter of time now, they seem certain -- when the FAA will allow unmanned aircraft to buzz in U.S. skies, ushering a new wave of businesses that will rely on drones almost as they've come to depend on PCs. The drone, as they see it, isn't just set to transform the economy: It's the new key to the American Dream.
DeNucci hopes that before long, he'll have a drone up there, too. This year, at 53, the former pilot and current safety consultant enrolled in Unmanned Vehicle University to pursue a master's degree in Unmanned Systems Engineering, a $13,000, year-long course he'll complete mostly online. He's betting the extra training will give him the qualifications he needs to start a company that uses unmanned aerial vehicles -- or UAVs, as they're known among this crowd -- to inspect power lines. At the Unmanned Vehicle University's booth at the exhibition hall, the school's founder passes out fliers detailing 199 other potential businesses uses for drones, from gravel pit inventory to crowd control.
"All we've heard about drones are military applications and killing people. That's not what this is about," said DeNucci, who wears a small American flag pinned to the lapel of his navy suit. "This is about infrastructure being improved, lowering costs and helping humanity in so many ways."
State governments share DeNucci's optimism: Sprinkled among the 800 stands showing off planes, sensors, joysticks and state-of-the-art screens are over a dozen state commerce bureaus vying to pitch themselves as the perfect home for unmanned-anythings. Before the end of the year, the FAA will pick six states to host the first UAV test flight centers. Where companies see that as an important step toward domestic drone use, local governments see jobs, taxes and big business.
Pick New Mexico, a rep for the state explains, and UAVs could fly over an area the size of Connecticut that offers desert at one end and mountains at another -- just the right typography to emulate Afghanistan, he points out. Ohio passes out sugar cookies in the shape of the state, while Marty Hohenberger of the Dayton Development Coalition explains how the UAV market is poised to double in size. "I think it's the future," Hohenberger said. "We think it is going to explode."
Even Florida, DeNucci's home state and the first state to pass a bill outlawing warrantless drone surveillance, has a booth touting the advances of testing UAVs in the Sunshine State.
Wandering the show floor is someone with a more sober view of drones: Jay Stanley, the senior policy analyst for the American Civil Liberties Union and a prominent member of what UAV-makers refer to as "the privacy lobby." Stanley is trying to track down a sensor he heard was capable of seeing human shapes through walls. The closest he can find is a system that can make out figures through window blinds.
Despite the privacy risks posed by powerful flying cameras, Stanley actually sees how letting drones fly in U.S. skies could be a major asset to American citizens, particularly political groups or journalists. Stanley is grappling with how lawmakers could craft drone policy that guarantees the protections of the Fourth Amendment, so the government couldn't use drones to conduct pervasive surveillance on innocent Americans, but doesn't infringe on the First Amendment. Citizens, he argues, should be able to use drones to police their politicians, or expose their government's bad acts.
"We want to see individuals with the ability to watch the government," Stanley said. "But not the government watching individuals, unless they have reason to suspect wrongdoing."
The government is already worried about who's watching. A salesman at a booth for drone surveillance software said that this year, like every year for the last four years, Defense Department staffers stopped by exhibitors' booths warning them to be vigilant against people carrying cameras.
"They said we have to be careful of people taking pictures and how much we disclose," he notes.
But the robots taking pictures? They're just fine.