For proof that smart, serious women can embrace fashion and change the world at the same time, look no further than state Sen. Wendy Davis (D). The Texas lawmaker grabbed America's attention this June when she filibustered an anti-abortion bill for 11 hours, standing up to Republican lawmakers (literally) in an epic show of persistence.
She did so with her blonde hair impeccably blown out (this is Texas, after all), a blue Escada coat concealing a back brace... and one fashion concession in the form of hot pink running sneakers by Mizuno. But this month, Vogue is giving Davis a full-on makeover, down to her shoes.
For a story titled "Stand and Deliver," Vogue shot Davis in her place of work wearing a sleek Carolina Herrera dress and Reed Krakoff heels (yes, Reed Krakoff, Michelle Obama's favorite designer du jour -- the coincidence is not lost on us). But Vogue also notes that Davis is like any other mom of two: Off-duty, she can be found wearing Lululemon.
"I'm happy in Lululemon, with a glass of red wine, watching HGTV," says Davis, who also opts for barely-there makeup when she's not at work. When she does dress up, she favors Chloé and Victoria Beckham with Miu Miu and Christian Louboutin heels for her feet. And, like many other women, she battles daily with her hair:
"I have super-supercurly hair, and it's a constant struggle," Davis acknowledges. "Pull out that picture of me from Patti's son's bar mitzvah." The photo from 2010 comes out; in it her hair is in an alarming frizz. "That was bad," she says with a breezy laugh. "That was so bad."
Lesson? Even the most powerful, awe-inspiring women have hair issues... and, more importantly, even the most powerful, awe-inspiring women can love high fashion.
Check out Davis' glam shoot and read the full story on Vogue.com or on newsstands August 20.
Vogue, September 2013: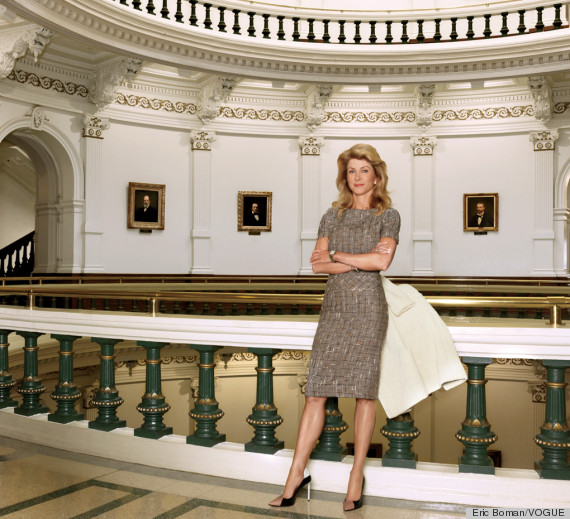 During her historic filibuster in Texas, June 2013: Relive Wendy Davis' filibuster:
PHOTO GALLERY
BEFORE YOU GO
Wendy Davis Speaks For 11 hours On The Abortion Bill
PHOTO GALLERY
Wendy Davis Speaks For 11 hours On The Abortion Bill
Want more? Be sure to check out HuffPost Style on Twitter, Facebook, Tumblr, Pinterest and Instagram at @HuffPostStyle.