Attention Angelenos: if you don't need to go to Orange County this weekend, then avoid it like the plague.
That's because our OC brethren are going to be put through their own mini-version of Carmageddon with the total closure of the 405 freeway between the 605 freeway and SR-22 highway junctions. The closure begins Saturday, Aug. 17 at 9 p.m. If all goes well, it will end on Sunday, Aug. 18 at around 5 p.m.
Map of the closure (lined in red):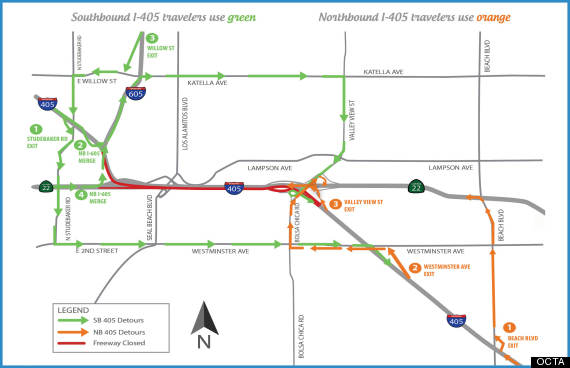 Dubbed the "Bridge Bash," the closure will give construction crews a 20-hour window to demolish the old connector between southbound 405 freeway and eastbound SR-22 highway. The connector was reconstructed to make room for a new carpool connector, explains the Orange County Transit Authority, so it's a little pain for a lot of gain.
The OCTA has a list of what exactly will close, as well as a alternate route suggestions, for the brave souls willing to take their chances on the road this weekend.
CLOSURES
Northbound 405 freeway will be closed at Valley View St.
Southbound 405 freeway will be closed between the 605 freeway junction to the eastbound SR-22 connector (near Valley View Street)
7th St. / Eastbound SR-22 will be closed at southbound 405 freeway junction
Currently, the southbound 405 freeway ranks as the second most congested freeway in the United States. Check out the rankings of other terrible roads, many of them in Southern California, in the slideshow below.
America's Most Congested Roads: 2013 Rankings
From INRIX: An 18-minute trip on this 17-mile stretch takes almost 50 minutes on weekday afternoons.

From INRIX: Chicago commuters waste approximately one work week (5 days) every year in traffic on this popular road to O'Hare Airport.

From INRIX: A 13-mile stretch up to Getty Center Drive takes 40 minutes at a crawl of 20 mph.

From INRIX: It takes approximately an hour to go 10 miles on this highway during the Tuesday evening commute.

From INRIX: New Yorkers waste more than a half hour per day on the evening commute in traffic on the L.I.E.

From INRIX: Drivers waste approximately six days per year in gridlock on this road.

From INRIX: It can take drivers up to over an hour (63 min) to navigate the 15-mile stretch from Lincoln Blvd. to Alameda.

From INRIX: On Thursdays between 4-5 p.m., drivers crawl at 10 mph, and it takes nearly 40 minutes to travel 6 miles.

From INRIX: Consistently jammed in both directions, the 405 is LA's worst freeway; the 8.1-mile stretch leading to Mullholland Dr. takes drivers over 50 minutes on Tuesday mornings -- the worst day and time of the week.

From INRIX: Drivers on New York's worst highway waste over six days each year in traffic.