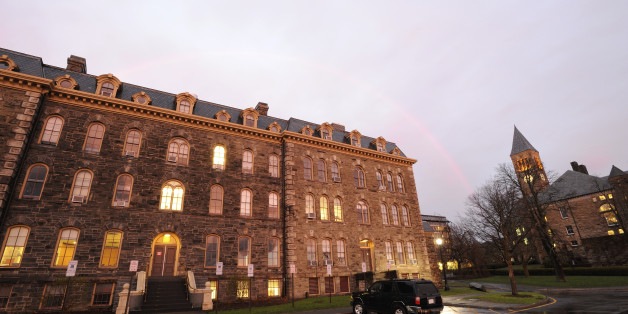 Cornell University is not sure if it wants CornellFetch to happen.
A new website called CornellFetch is raising eyebrows at the Ivy League campus in Ithaca, N.Y. The site is little more than a "hot-or-not" forum featuring pictures of women in sororities at Cornell, along with their Greek affiliation. Users can collect points with each vote they cast anonymously. A blurb on the page urges them to collect 1,000 points, although nothing happens once a user reaches 1,000 points.
CornellFetch was set up by a group of Cornell undergraduates, but that's pretty much all that's known publicly about who's behind it. A man who said he was one of the creators reached out to The Huffington Post from an email address listed on the site. He provided a phone number, but did not to give his name and wouldn't disclose how many students are involved.
"So basically CornellFetch started as a curious idea," he said during a phone call Thursday night. "We wanted to see if certain [Greek] affiliations would cause people to make different choices."
The points are used to see if incentives cause people to participate more. He notes that the group didn't put instructions on the site so users have to decide whether they're clicking on a photo because the woman is more attractive or because they prefer her Greek affiliation.
The content on CornellFetch was taken from Facebook, essentially auto-filling the new site. The entire project took less than three hours to complete. The anonymous student said the group likely didn't collect every sorority member on campus, only a subset based on information provided on Facebook.
The website's creators have received subject death threats and harassing emails since the launch of the site on Tuesday, which he said they aren't taking seriously. The students plan to remove sorority affiliations, and eventually release all the data to show whether users voted more for a women based on looks or the house they're in. The anonymous student said a database attack set them back a few days.
As of Friday afternoon, CornellFetch's counter showed up to 1.9 million hits; he said it had close to 10,000 unique visitors and at one point had 555 visitors on the site at one time.
CornellFetch has elicited mixed reactions on campus, and among those featured on the website. Anastasia McGlade hadn't heard of the site until she was asked for a comment by HuffPost. "I don't have much of a reaction. It looks like another site for self-promotion and creating drama for people who are bored and have nothing better to do with their time," McGlade said.
The No. 1 ranked woman on the site as of Friday afternoon, Alpha Phi sister Carly Silver, said simply in an email, "Proud to represent Cornell!" The leadership of Alpha Phi did not return a request for comment. Several other students included on the website declined to comment.
University spokesman John Carberry told the Cornell Sun that officials plan to let this situation self-regulate, but that the university does not condone the site.
The Cornell Panhellenic Council did not return a request for comment.
There is a form on the site that women can fill out to request removal from CornellFetch, the anonymous student said, adding that the site will honor every request, but it's a slow process.
"This is not meant to be permanent or long-term," he said. "Once the experiment ends, we will be compiling summary data and then releasing them." He did not say when he expects that to happen.
EARLIER ON HUFFPOST:
PHOTO GALLERIES
Breakdown Of Facebook Usage