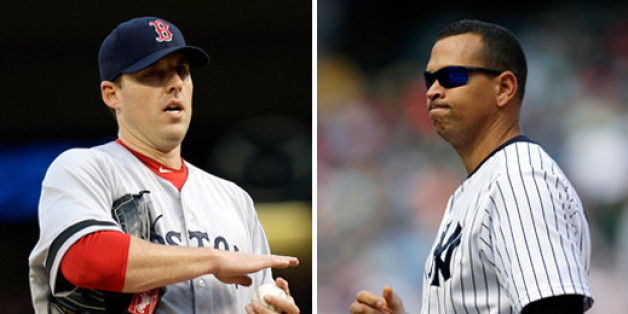 Boston Red Sox pitcher John Lackey doesn't think his team should have to face Alex Rodriguez this weekend. Although MLB levied a 211-game suspension against the New York Yankees' third baseman, A-Rod remains eligible to play until his appeal is heard.
"I've got a problem with it. You bet I do," Lackey told The Boston Globe on Thursday. "How is he still playing? He obviously did something and he's playing. I'm not sure that's right ... It's pretty evident he's been doing stuff for a lot of years I've been facing him."
MLB banned A-Rod for 211 games in the sport's latest drug scandal for "his use and possession of numerous forms of prohibited performance-enhancing substances, including Testosterone and human Growth Hormone, over the course of multiple years," per MLB.com. To the displeasure of Lackey, A-Rod is allowed to play until arbitrator Fredric Horowitz makes his ruling on the case, which is expected to be heard in November or December according to the Associated Press.
Lackey also told the Globe "there are a lot of things I want back from" Rodriguez. He even pointed out that the 14-time All-Star hit a home run off him in 2002, a season in which A-Rod admitted that he took performance-enhancing drugs.
In 63 career at-bats against Lackey, A-Rod has a .200 batting average with five homers and 27 strikeouts, according to Baseball Reference.
The Yankees play the Red Sox in a three-game series this weekend at Fenway Park. Lackey is scheduled to start on Saturday, according to the Red Sox' official website.
Lackey isn't the only player in the American League East questioning the fairness of Rodriguez's ability to continue playing pending his appeal. Tampa Bay Rays third baseman Evan Longoria also voiced his opposition to opposing Rodriguez over the final weeks of the 2013 regular season.
"I don't think it's fair for the other teams, because I'm in the American League East. Whether he is 100 percent or not, whether his mind is where it needs to be or not, he can affect the game in a positive way. He can affect the game in a tremendous way, which is being in the lineup," Longoria told Jimmy Traina of SI.com. "In a pennant race, he's a guy that you don't want in the lineup. Looking at it from that perspective and that perspective only, I don't think it's fair that we can't have an arbitrator hear the case sooner."
ALSO ON HUFFPOST:
PHOTO GALLERIES
2013 MLB Season Highlights