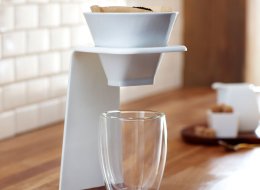 Earlier this week, we talked about the coffee accessories that are actually worth buying. Like every coin, this one has a flip-side, and today we want to steer you clear of the coffee accessories you definitely don't need. You may want them, you may have them, you may covet them, but you don't need them to get a great cup of coffee.
The most egregious offenders in this category almost always blow us away with dollar signs. The idea that you have to spend a ton of money to be great at making coffee has always ruffled our feathers, and today is no exception. When it comes to making our coffee (and really, most of our meals), we tend to believe that simplicity is usually the best policy. A copper-plated, hand-cranked coffee grinder? Not so much.
Want to read more from HuffPost Taste? Follow us on Twitter, Facebook, Pinterest and Tumblr.
Coffee Accessories You Do Not Need
Farberware Classic Stainless Steel Yosemite Coffee Percolator, $23.92 on Amazon Dear percolator, we love you for nostalgic reasons, but you make some of the worst coffee ever.

Starbucks Premium Pour-Over Brewer, $124.95 on Amazon Wait, wait, wait. Starbucks is trying to charge us $125 for a pour-over cone and a stand? Good luck, dudes!

Alessi Aldo Rossi Coffee Press, $205.00 on Amazon $205?? Two-hundred five AMERICAN dollars? This cannot work 6.83 times better than the $30 version, so please do not pay 6.83 times the price.

Chemex Hand-Blown Kettle, $72.00 from Whisk The Chemex is one of our favorite coffee accessories ever invented, but we just can't imagine that a $72, hand-made kettle is really necessary to make great coffee with it.

Hario Skerton Ceramic Coffee Grinder, $49.95 on Williams-Sonoma Oh, you can't get the "right grind" from an electric coffee grinder? It doesn't "do justice" to your cup of coffee. Fine. See you in twenty minutes. When we'll already have a cup of coffee.

Copper Cylindrical Coffee Grinder, $131.76 on Amazon Because if there's anything less practical than a hand-cranked coffee grinder, it's an ornamental one.

Hario Coffee Drip Kettle, $46.84 on Amazon So you've crossed over to pour-over coffee, do you need a special kettle that pours water just-so over the grounds? No. But obviously there is one for purchase on the internet.

Black & Decker Brew 'n Go Personal Coffeemaker With Travel Mug, $16.60 on Amazon Just, no guys. Come on. For what reason?

Hario Cold Water Coffee Dripper, $265.00 from Williams-Sonoma GUYS, $265 FOR DRIP ICED COFFEE? Stop. STOP. Do not pass go, do not give away $265. Buy a French press.

Coleman Camping Coffee Maker, $28.80 on Amazon We have a camping coffee maker too. It's called a French press.

Hamilton Beach Two Way Brewer Single Serve and 12-cup Coffee Maker, $79.00 on Amazon Ah yes. Finally an end to the long national nightmare that has been pouring coffee into your coffee mug from the container you made it in.

Cafe de Tiamo Syphon Vacuum Coffee Maker with Micro Butane Burner, $124.99 on Amazon WHOA. Is it a cup of coffee or a chemistry class? We hope this makes amazing coffee, because it looks like it might also burn the house down.

Milk Island, $116.10 on Amazon Is it weirding anyone else out that this REALLY expensive milk steamer is called Milk Island? Just checking.

Keurig Single Cup Home Brewing System, $103.95 on Amazon We know this will make someone yell at us, but we're just going to say it: these things make the worst effing coffee ever. We have never tasted a single pod-cup that compared to a French press cup.

Breville Dual Boiler Semi Automatic Espresso Machine, $1,199.69 on Amazon First of all, we don't want anything in our kitchen labeled "semi-automatic." But the real issue here is price. Look, if you a) love espresso so much you need to have it in your house and b) have the cash to drop on this, do it. We hope you and espresso are really happy together. Everyone else, support a local coffee shop.