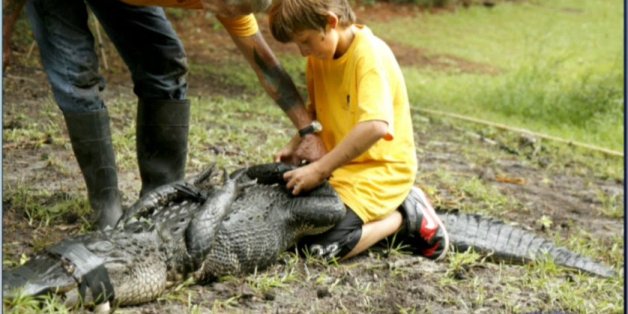 You don't want to mess with this kid.
A 12-year-old South Carolina boy is receiving some well-deserved praise after saving his neighborhood from an alligator on the loose, Fox News Insider reported.
The boy, Joey Maffo, took matters into his own hands in what can only be described as the world's most most epic beatdown of a reptilian foe when his neighborhood in Hilton Head was in trouble.
Like a superhero descending from the skies, Maffo took on the villainous gator after his neighbor, 50-year-old Tamra Shattuck, was attacked while walking her two dogs Wednesday and got a nasty bite on her foot, Island Packet news reported.
Investi-gator Maffo needed only a day -- and the help of his grandpa, Joe Maffo -- to track down the attacker. Four hours after finding its lagoon lair, Joey wrangled in the 8-foot-long, 180-pound critter.
"I went down and just let [Joey] fight it and hold it until it got to 16 feet out where I could reach it," 68-year-old Joe Maffo told ABC News. "I stood at the edge of the water and reached out with a pole and put it around its neck and pulled it up to shore, and then he pulled the rope tight. I got on the gator and he came over and taped it."
South Carolina law dictates that the alligator must be killed, according to ABC.
Wrangling gators is a time-honored right of passage for southern boys, like 10-year-old Michael Dasher, who wrestled and wrangled a 6-foot gator in Florida in 2011.
PHOTO GALLERY
BEFORE YOU GO
Animals In The News
PHOTO GALLERY
Animals In The News