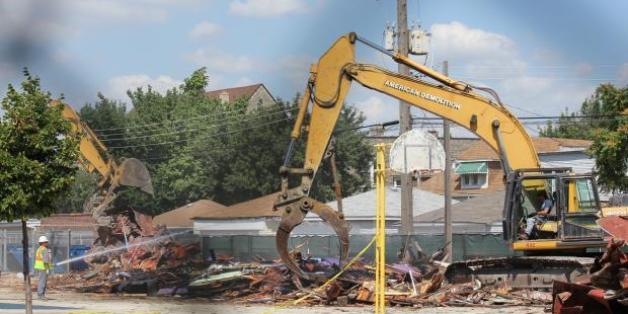 Like a repeat of Meigs Field, constrution crews came to Whittier Elementary school on Chicago's South Side and under the cover of night to start demolition on a beloved field house the school district had previously promised to preserve.
Wrecking crews surprised a class of dance students and ordered them out of the building around 6 p.m. Friday night, according to DNAinfo Chicago, pushing through with demolition amid protests and some 10 arrests.
The Whittier Elementary School fieldhouse, affectionately know as "La Casita" in the Pilsen neighborhood, was at the heart of a highly-publicized sit-in in 2010 during which families occupied the building for 43 days to prevent demolition.
Amazing photo by Tracy Barrientos from #LaCasita / #Whittier >> A father takes #DirectAction against a bulldozer. pic.twitter.com/hseKmVy2w3

— Minku (@MinkuMedia) August 17, 2013
Whittier was using the facility as its only library when the Chicago Public School district revealed plans to demolish the building and replace it with a soccer field for use by Cristo Rey, a neighboring private Jesuit high school.
After word spread quickly via social media urging people to come and occupy the building Friday night, activists thought they had won a reprieve: CPS reportedly agreed to meet with the anti-demolition activists in the morning in a meeting to be attended by Ald. Danny Solis (25th), as well.
Instead, Solis was a no-show and demolition continued amid protests and arrests at the scene. CPS officials said the Whittier Parents Committee declined the district's offer to meet while parents said CPS would only agree to a meeting away from La Casita, leading them to fear the bulldozers would roll once they left the scene.
In a statement, Solis echoed CPS's allegation that the fieldhouse was "not safe for occupancy" and despite plans for renovation, the WPC did not make adequate strides to bring the building up to code since the 2010 demonstration.
In 2010, then-CPS CEO Ron Huberman acquiesced to the community's demands, pledging the field house would not be demolished. In 2011, Huberman's successor, Jean-Claude Brizard, reaffirmed that promise in a letter to Whittier parents.
"CPS is a liar, nothing but liars. They made a promise, and now they creep in in the middle of the night. Why now? Why at night? So no one sees this betrayal, this hypocrisy," community member Chris Gevanis told the Sun-Times Friday.
Alix Gonzalez, a 36-year-old CPS teacher at a nearby school told the Tribune, "It used to be programming in both buildings. Isn't that what we need more of? Programming and schools to be open? That's how we're going to have less violence."
The demolition was completed before noon Saturday, leading to 10 arrests and promises from CPS to create a multi-use playground. Describing the scene to the Sun-Times, Kristine Mayle of the Chicago Teachers Union said,
"They just charged straight through the gate and tore it down. It's really defeating."

EARLIER ON HUFFPOST:
PHOTO GALLERY
BEFORE YOU GO
Whittier Library: Parents, Police In Standoff Outside Elementary School Fieldhouse
PHOTO GALLERY
Whittier Library: Parents, Police In Standoff Outside Elementary School Fieldhouse