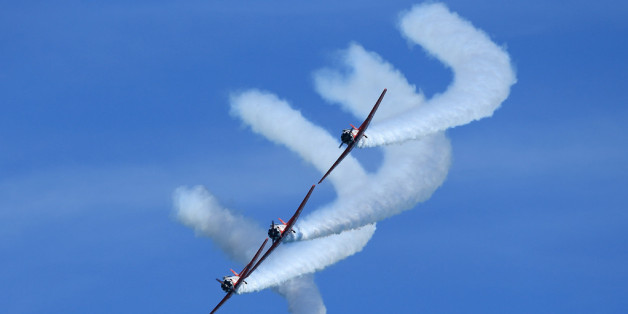 Though city officials had touted that the 2013 Chicago Air and Water Show would be just as -- if not more so -- exciting than years past even without the military acts, it appears the budget cuts may have contributed to slightly smaller crowds at the annual event.
The city estimates that some 1.7 million people came to take in the show between Friday and Sunday, days marked with sunshine and weather that "could not have been better," ABC Chicago reports. An estimated 2 million people attended last year's show.
Story continues below
PHOTO GALLERY
BEFORE YOU GO
Chicago Air & Water Show 2013
PHOTO GALLERY
Chicago Air & Water Show 2013
Among those in attendance was the girlfriend of one parachuter, Dan Cook, who proposed to her upon landing.
This year's lineup was minus the Thunderbirds, the Blue Angels and the Golden Knights parachuters due to federal budget cuts, but newcomers to the show included the All-Veteran Parachute Team and the British Sea Harrier Jet.
In good news for those who missed them, the Blue Angels, according to the Chicago Tribune, are slated to return to the show in 2014.