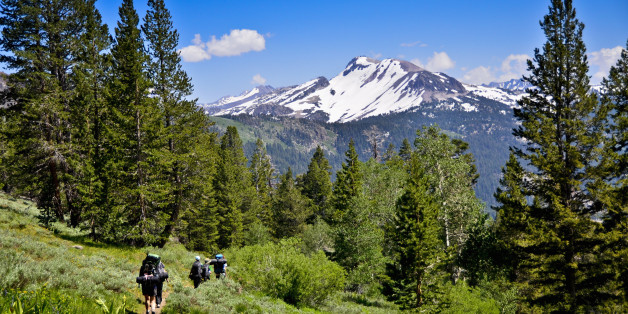 A California hiker has broken the world record for completing the Pacific Crest Trail, hiking the entire 2,650 miles from Mexico to Canada in just under 60 days.
Averaging 45 miles per day and sleeping only four hours per night, Josh Garrett, 30, reportedly broke into sobs as he reached the trailhead in Canada.
"I cried, I broke down and bawled pretty good," Garrett told the San Francisco Chronicle. "My girlfriend (Karen Dawn) was waiting for me at the monument with her arms wide open. What a sight. A long time coming."
"In 2009, I hiked the Pacific Crest Trail and it was the greatest experience in my life, hands down," said Garrett in a video for Mercy for Animals. "I wasn't sure if I wanted to go back out there again, but I thought that if I could make it worthwhile for the animals, I would strongly consider it."
The speed record trip wasn't entirely smooth sailing. According to the Chronicle, Garrett collapsed just 100 miles into the journey.
"I had doubts if I could continue," said Garrett. "It was 100 degrees, I was shooting for 41 miles per day, and I collapsed from heatstroke."
But after just one night out of the wilderness and in a hotel room, Garrett was back on the trail.
"I constantly reminded myself, as painful as it was to do the hike, as miserable as it was at times, it was nothing compared to what animals on factory farms and slaughterhouses go through," Garrett said.
Garrett briefly documented his journey via Facebook and Twitter, sending a final tweet upon completion:
Finished Aug 8, 8:15pm: 59 days, 8 hrs, 14mins. PCT fastest known time, first ever under 60 days. For the animals. Josh Garrett Vegan hiker.
According to the Seattle Times, Garrett finished the hike just 24 hours after a woman, Heather Anderson, completed the same hike in about 60 days and 17 hours. Both beat the previous record of 64 days, 11 hours and 19 minutes set by Scott Williamson in 2011.
"I reached the Canadian border alone," wrote Anderson on her Facebook page about the trip. "I have never felt an adrenaline rush like I did the last two miles. I literally could not feel my body."
Also on HuffPost:
16 Great Hiking Destinations
SUBSCRIBE AND FOLLOW
Get top stories and blog posts emailed to me each day. Newsletters may offer personalized content or advertisements.
Learn more