The tip of Florida must be doing something right. WLRN reports that out of all the metro areas in the state, Miami-Dade is tied as the best place to transcend poverty.
In a recent study, researchers at Harvard and Berkley tracked individuals born in 1980-81 and studied the change in their economic status by age 30.
"The United States has historically been viewed as the 'land of opportunity,' a society in which a child's chances of succeeding do not depend heavily on her parents' income or circumstances," the researchers wrote in their summary. "But there is growing evidence that intergenerational income mobility in the U.S. is actually lower than in many other developed countries."
While the Southern states in particular showed stagnant income mobility, the 305 fared much better.
Researchers found that someone born in Miami in the bottom fifth of wealth had a 7.4 percent chance of reaching the top fifth. And while that rate doesn't sound that encouraging, it's the highest mobility rate in Florida, tied with Pensacola.
In Orlando, for instance, the chance of a poor kid reaching that kind of wealth is only 5.6 percent.
Researchers believe better income mobility is linked to four key factors: the prevalence of mixed-income neighborhoods; two-parent vs. single-parent households; higher-quality schools; and progressive tax policies, including credits for low-income workers and higher taxes on the wealthy.
Check out the map below to see how South Florida stands in contrast with the dire rates of income mobility in the rest of Florida: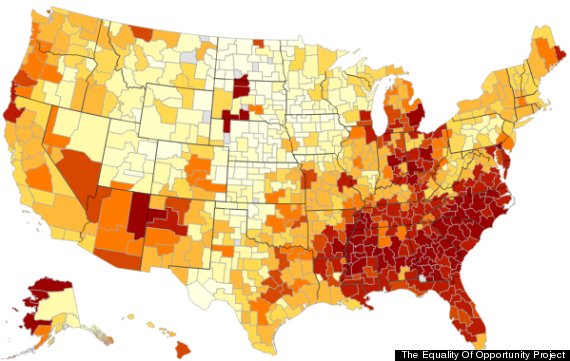 ALSO ON HUFFPOST:
PHOTO GALLERY
BEFORE YOU GO
Florida's Child Poverty Problem
PHOTO GALLERY
Florida's Child Poverty Problem