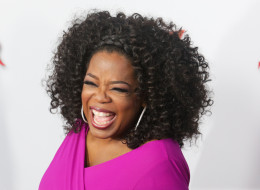 Oprah just had a major weekend.
The talk show queen has been everywhere as of late, from Larry King's Internet TV show to Andy Cohen's late night talk show to the hair-focused cover of O magazine. As one of the stars of "Lee Daniels' The Butler," Oprah has been on the media circuit, promoting the film and attending premieres. Her performance as the longtime White House butler's boozy wife is already getting Oscar buzz. And during her interviews, she's been talking about topics including Trayvon Martin's death, racist shopping encounters and even the last time she smoked weed!
This past weekend was a capstone of sorts for the media mogul, as "Lee Daniels' The Butler" opened first at the box office. According to estimates on Sunday, the film debuted in the top spot with $25 million. And if that wasn't enough for the talk show queen, her exclusive interview with Lindsay Lohan aired on OWN, Oprah's cable network, on Sunday.
The highly anticipated interview was Lohan's first since completing rehab. The star sat down with Oprah and also signed on to do a docuseries with OWN, which will go into production this month. While ratings for the interview have not yet been released, the exclusive is expected to bring in quite the numbers.
Both Oprah and Lohan live-tweeted throughout the airing of the interview. The actress opened up about her alcohol addiction and cocaine use, sitting down for the interview just days after her latest rehab stint.