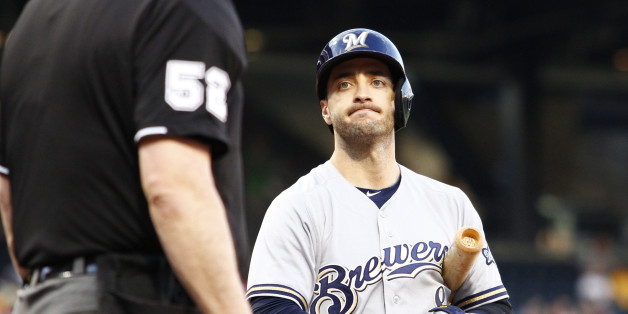 In his attempts to clear his name after a positive test for a banned substance in 2011, Milwaukee Brewers slugger Ryan Braun reportedly called fellow players to lobby for support and even went as far as to suggest reasons why collector Dino Laurenzi Jr. may have tampered with his urine sample.
According to ESPN's Buster Olney, Braun called "veteran players around baseball privately" and lobbied for support in the days leading up to his appeal decision in February 2012. Citing three unnamed sources, Olney reported that Braun told players that the collector of his urine sample was an anti-Semite and a fan of the Chicago Cubs, the Brewers' division rival.
Braun's first suspension for a positive drug test was overturned by an arbitrator. Less than 24 hours later, Braun held a press conference and talked about Laurenzi.
"There are a lot of things that we heard about the collection process, the collector and some other people involved in the process that have been concerning to us," Braun said. "But as I've dealt with the situation, I know what it's like to be wrongly accused of something, so for me to wrongly accuse somebody wouldn't help."
MLB suspended Braun for 65 games following its investigation of Biogenesis, an anti-aging clinic in Florida accused of peddling PEDs to ballplayers. The 2011 NL MVP issued a statement acknowledging that he made "mistakes."
"As I have acknowledged in the past, I am not perfect. I realize now that I have made some mistakes. I am willing to accept the consequences of those actions. This situation has taken a toll on me and my entire family, and it is has been a distraction to my teammates and the Brewers organization," Braun said, via the Brewers' official website. "I am very grateful for the support I have received from players, ownership and the fans in Milwaukee and around the country. Finally, I wish to apologize to anyone I may have disappointed - all of the baseball fans especially those in Milwaukee, the great Brewers organization, and my teammates."
Although Braun was vague about what sort of "mistakes" he made when he issued that statement, he may be preparing to make a more complete confession and apology, according to USA Today. Citing unnamed people familiar with his plan, Bob Nightengale of USA Today reported that Braun will soon admit PED use, explain his reason for cheating and even offer an apology.
SUBSCRIBE AND FOLLOW
Get top stories and blog posts emailed to me each day. Newsletters may offer personalized content or advertisements.
Learn more