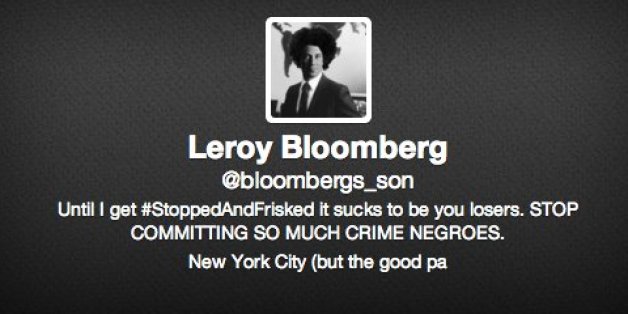 We think everyone pretty much gave Bloomberg the side eye after his comments in The New Yorker, and of course Black Twitter is responding, not just in the form of tweets but in the form of an entire twitter account posing as the mayor's fictitious son.
In an interview with The New Yorker, Bloomberg said he might feel differently if he had a son who was stopped as a result of the city's controversial program:
"If I had a son who was stopped, I might feel differently about it, but nevertheless," Bloomberg said. "Maybe I was inelegant, but I don't think anybody thinks I am anything but—I hope not, anyway—supportive of trying to help all people. With my own money as well as time, thank you very much. I've spent 12 years of my life doing this."
What the mayor fails to mention is, even if he had a son, unless he was black or appeared to be black, he likely would not be stopped. The New York Civil Liberties Union found that blacks and Latinos accounted for more than 50 percent of stops in 70 out of 76 precincts. Even more alarming, in 33 precincts minorities counted for over 90 percent of stops, according to a 2012 report.
One clever Twitter user decided to hone in on that and create a fake twitter account for Bloomberg's "son" - Leroy Bloomberg.
The bio section of the twitter page reads:
Until I get #StoppedAndFrisked it sucks to be you losers. STOP COMMITTING SO MUCH CRIME NEGROES.
Here's one of the tweets from the account:

To view more of the satirical tweets take a look at them in the slideshow below. What do you think of the parody account?
PHOTO GALLERY
BEFORE YOU GO
Bloomberg's "Son" Leroy - Twitter Parody Account
PHOTO GALLERY
Bloomberg's "Son" Leroy - Twitter Parody Account