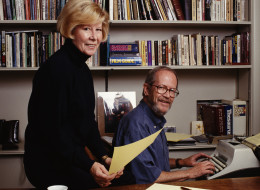 When revered writer Elmore Leonard died Tuesday due to complications from a stroke, he left behind not just family and loved ones, but a large community of readers who treasured the works in his vast oeuvre of thrillers, crime novels and Westerns.
At age 87, the prolific writer hadn't slowed down and was working on his 46th book. His legacy is sure to live on in words and on the screen: many of his works have been turned into acclaimed movies and television shows, with the newest adaptation, a movie version of "The Switch" starring Jennifer Anniston set to debut soon.
Leonard will likely be finding new readers in the decades to come, some who might be overwhelmed by the sheer number of choices when deciding where to start. Below, we've pulled together some of the essential Elmore Leonard reads, for the newly initiated -- or for the author's fans who want to relive the stories that won him the the National Book Foundation's Medal for Distinguished Contribution to American Letters and the praise of best crime writer in America from Newsweek.
What's your favorite Elmore Leonard story? Leave us the title in the comments.
The Elmore Leonard Primer: 10 Essential Reads
Get Shorty might be Leonard's most famous novel. If you haven't read it, get your hands on this book (even if you dug the 1995 film starring Danny DeVito and John Travolta.) The taut tale of Ernest "Chili" Palmer, a seriously cool Miami loan shark betting big on Hollywood, and Bo Catlett, a gangster in sheep's clothing who'd prefer Ernest dead, is one of the rare Leonard novels with a happy-ish ending. As for that title? You could read the whole book before the meaning clicks.

Swag introduces another memorable Leonard man from the underworld, armed robber Ernest Stickley, Jr. While Leonard himself was no crook, Swag introduced 10 helpful rules for successful armed robberies, delivered by an "almost honest" used car salesman, Frank Ryan. Rule #1: "Always be polite on the job and say please and thank you." You'll root for these two stick-up artists.

This Western short story, an undeniable classic, helped make Leonard a star. So good it was made into two films: a 1957 version starring Glenn Ford and Van Heflin, as well as the 2007 film with Russell Crowe and Christian Bale. Leonard was still an ad man in Detroit while penning these yarns.

Leonard called it Rum Punch, but you know this story from Quentin Tarantino's 1997 flick, "Jackie Brown." Leonard never wrote about women who were damsels or wallflowers, but this aging-still-amazing flight attendant is a first-class treat all her own.

Crime novels AND Westerns? Listen, Leonard could do it all. His Out West books were so gripping, we'd call 'em suspense novels in cowboy hats. Take Hombre, hailed as one of the 25 best Western stories of all time. It's the tale of John Russell, an Apache man on a cross-country journey to live as a white man. He's shunned by his fellow passengers... that is, until the outlaws arrive. It's a meditation on race and identity, with gunfights and stagecoaches to boot.

Before George Clooney and Jennifer Lopez turned in one of the best performances of their earlier careers in the 1998 movie by the same name, there was this unlikely love story between Jack Foley, a robber on the run, and Karen, the U.S. Marshal he has the hots for. Leonard absolutely nails the flirtatious dialogue in this story. If only all hookups sounded this way...

Detroit businessman Harry Nolan stepped out on his wife... but only once. Too bad a blackmailer has the whole sordid secret on film -- and will stop at nothing, including murder, to get the payoff. Sound familiar? Let's just say Harry isn't the kind of guy to go along with extortion. 52 Pick Up demonstrates just how much Leonard could do with a simple plot.

Killshot was made into a 2008 movie starring Diane Lane and Mickey Rourke. It's one of the only novels we can think of where the heroes are an ordinarily suburban married couple on the run from a pair of thieves.

The plot of Split Images is vicious: Palm Beach playboy guns down a Haitian refugee. Was it justifiable homicide, or just practice for a rich man with an itch to kill? This isn't one of Leonard's most famous books, but there's one chilling scene involving a chase and a videocamera we all but guarantee you won't be able to stop reading.

This Edgar Award-winner is generally hailed by critics as one of Leonard's best (and considering that he published 45 novels, that's quite a compliment). The story of faded screen star Jean Shaw and Joe LaBrava, a former fan who steps in to protect her, is almost outmatched by Leonard's dead-on gazing at South Beach's seamy 1980s underworld.