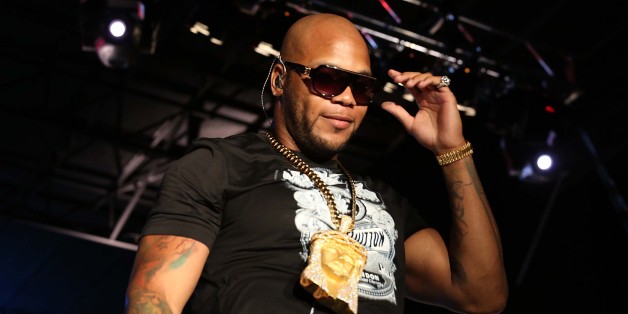 Flo Rida is feeling pretty lucky right about now: The rapper, best known for jumping on already popular songs and dishing out generally unmemorable party rap verses over the pre-existing songs, faced a six-figure lawsuit after he was an alleged no-show at the Fat As Butter festival in 2011, despite having been pre-paid for the gig. In an unusual move, the organizers of the festival served Flo Rida on Facebook -- digitally notifying him that he was due in court.
Unusual, and not totally kosher, according to a judge who upheld Flo Rida's appeal of the the initial ruling that allowed Mothership Music to serve the rapper (born Tramar Dillard) and his management, VIP Entertainment and Concepts, on the social network in the first place. Billboard reports that Justice Robert McFarlan, the judge who sided with Flo Rida, had this to say: "The evidence did not establish, other than by mere assertion, that the Facebook page was in fact that of Flo Rida and did not prove that a posting on it was likely to come to his attention in a timely fashion."
That's good news for Flo Rida -- $377,000 worth of good news, as he was being sued for the Australian equivalent of that sum.
Mothership Music isn't the only one taking shots at the 33-year-old performer. After Flo Rida released the video for "Can't Believe It," an homage to Sir Mix-a-Lot's "Baby Got Back," Diplo took to Twitter to call him a "f--k ass f--k boi," alleging that his own video for "Butter's Theme" closely resembled Flo Rida's visuals. Flo Rida disputed that claim and said he had never seen Diplo's video.
Honestly, this is hardly the weirdest thing to happen in Florida.
PHOTO GALLERY
BEFORE YOU GO
Celebrity News & Photos
PHOTO GALLERY
Celebrity News & Photos