Taylor Swift Performs 'Brave' With Sara Bareilles, Dings Katy Perry In The Process?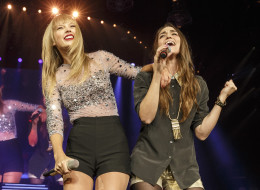 Taylor Swift's concert on Monday night in Los Angeles included guest appearances from Cher Lloyd and Sara Bareilles. Swift brought out the latter singer to perform the hit song "Brave," which has been in the news because of the striking similarities between Bareilles' track and Katy Perry's newest single, "Roar."
"Guys, there's a song that came out a few months ago, and I listen to it every single time I have a bad self-esteem day -- which is a lot," Swift said while introducing Bareilles. "This song is so beautifully written. It's so original. It's something I've listened to hundreds and hundreds of times by an artist who I absolutely adore. A singer-songwriter who's so incredibly talented, it's ridiculous. She came here out of the goodness of her heart to sing for you tonight."
Swift isn't the only fan of Bareilles' "Brave"; Perry also tweeted praise about the song in May. Swift, meanwhile, tweeted about the duet after the show:
Tonight at Staples was an absolute DREAM. @SaraBareilles came out to sing 'Brave', one of my favorite songs. And she completely smashed it!!

— Taylor Swift (@taylorswift13) August 20, 2013
Neither Bareilles or Perry has made direct comment on the "Brave"/"Roar" comparisons, but Bareilles did tweet this after the release of Perry's hit single:
All love, everybody. All love. ❤❤❤❤❤❤❤❤❤❤❤❤❤❤❤❤❤❤❤❤❤❤❤❤❤❤

— Sara Bareilles (@SaraBareilles) August 10, 2013
As for Swift, she also hung out with Maude Apatow on Monday night, because of course:
Just went to @taylorswift13 concert. Words cannot express... Mind blown... Nicest person ever... Lovelovelove pic.twitter.com/rojvp7jBmo

— Maude Apatow (@maudeapatow) August 20, 2013
Katy Perry's Style Evolution
(Getty photo)

(Getty photo)

(Getty photo)

(Getty photo)

(Getty photo)

(Getty photo)

(Getty photo)

(Getty photo)

(Getty photo)

(Getty photo)

(Getty photo)

(Getty photo)

(Getty photo)

(Getty photo)

(Getty photo)

(Getty photo)

(Getty photo)

(Getty photo)

(Getty photo)

(Getty photo)

(Getty photo)

(Getty photo)

(Pacific Coast News photo)

(Pacific Coast News photo)

(Pacific Coast News photo)

(Pacific Coast News photo)