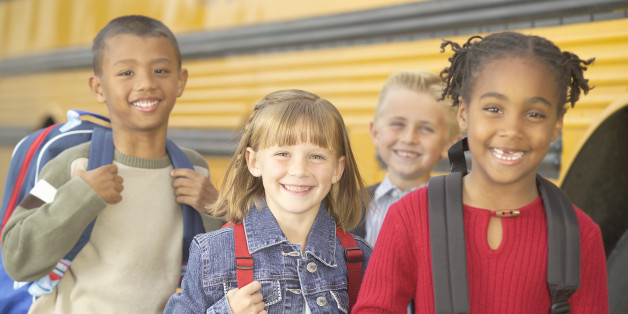 It's back-to-school time, which means kids are savoring those last moments of the summer and parents are doing that mad dash through the aisles for supplies, gadgets and jeans with price tags that might make them wince.
But not all families have the luxury of choosing which tablet to buy their students -- or even affording loose-leaf paper in some cases. Many families are living off one income, might not know where there next meal is coming from or have been displaced by a recent disaster. And that's where nonprofits -- and you -- come in.
Supporting kids in need ensures their basic needs are met so that they can focus on learning, Catherine Meek, the executive director of tutoring and educational support nonprofit Schools On Wheels, said in a recent piece for the Huffington Post:
"How can a seven-year-old child learn when she has not slept the night before because she's scared and hungry and doesn't know where she'll sleep that night? How can we expect a 15-year-old to care about graduating when he has to study in a closet because the shelter lights have been turned off?"
Show your back-to-school spirit by checking out the organizations below and finding out how you can help kids in need empower themselves.
Help Kids Whose Families Face Financial Problems
Youth LIFT
This organization aims to help homeless youth succeed through education. Youth LIFT relies on donations and mobilizes volunteers to support homeless children with school supplies, education trips, counseling and transportation. To learn more about how you can help out, click here.
Feed The Children
In addition to sponsoring diaster and hunger relief programs internationally, Feed The Children is helping equip poverty-stricken children in the U.S. with school supplies, snacks and hygiene items. The organization reports that in 2012 it helped provide millions of impoverished American children with $287 million worth of essentials, school supplies, and food. To learn more about how you can help out, click here.

Help Children Affected By Natural Disasters
The New Jersey Education Association
The NJEA set up a fund to help raise donations and mobilize volunteer support to help rebuild schools damaged by Hurricane Sandy. In addition to repairing these devastated schools, the NJEA is helping provide displaced and/or impoverished children with education supplies so that they can return to school ready to learn. To learn more about how you can help out, click here.
DonorsChoose.org
After the tornado devastated schools in Oklahoma and displaced almost 10,000 people, public school teachers took to an online fundraising platform DonorsChoose.org to rebuild their classrooms. Without a school to attend, Moore's children will suffer avoidable tolls on their education progress. So far, the Rebuild Moore Schools project has raised $441,674 but will need more to repair the two schools that were destroyed by the tornado. To learn more about how you can help out, click here.
Help Displaced Students:
Kids In Distressed Situations (K.I.D.S)
K.I.D.S collaborates with partner corporations to raise funds and organize volunteer work for helping provide children who experience extreme economic and domestic hardship with financial, medical, and education support. K.I.D.S reports that it has delivered over $6 million in school supplies and clothing to children in need since 1998. The organization also provides relief to children and parents suffering from the aftermath of natural disasters. To learn more about how you can help out, click here.

Help Young People In Need Outside of the U.S.
Pencils of Promise
Pencils of Promise is helping impoverished children in Ghana, Laos and Guatemala get the school supplies needed to attend secondary school. Their goal is to empower these children through education because, as they report, each year of schooling increases a student's lifetime income by 10 percent. So far, the organization has raised $62,423 of its $500,000 goal. To learn more about how you can help out, click here.
ALSO ON HUFFPOST:
PHOTO GALLERY
BEFORE YOU GO
Nonprofits Prepare Needy Kids For School Year
PHOTO GALLERY
Nonprofits Prepare Needy Kids For School Year