So, remember the naughty neighbors in Cobble Hill, Brooklyn, who made other residents super annoyed with with their exposed glass shower? And remember when New York Magazine said that the structure was still under construction and they were going to cover it, but everyone was still talking about it? Yeah, well the owners have finally responded -- with a giant letter to the community.
According to the New York Post, New York Times home and design reporter Julie Scelfo and her husband James Cavoli put a giant note in the shower, facing the backyard, stating that the structure is indeed not finished, and when it is done, it will have "privacy coverings." And then, they totally made everyone feel bad with this part: "We are dismayed and a bit heart sick at the attention our half-finished house has created.... We look forward to a day when we know our neighbors well enough to discuss any concerns over coffee, and not in newspapers and on gossip sites on the internet."
Well, almost everyone felt bad. One person told The Post that the couple are enjoying the attention -- talk about nasty neighbors.
Scroll to see photos of the letter from Paul Martinka, and be sure to head over to the New York Post for more information.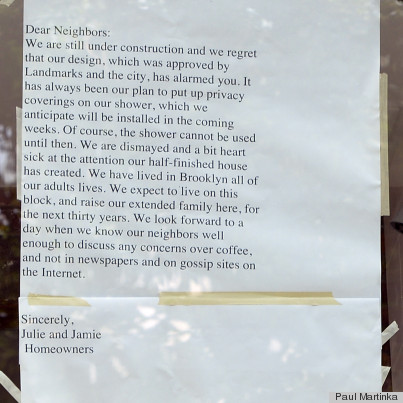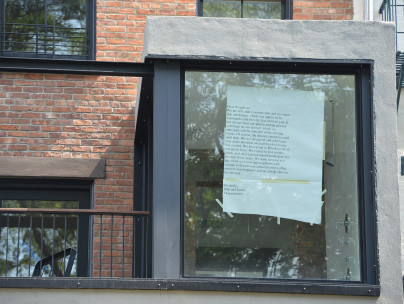 Photos by Paul Martinka.
Have something to say? Check out HuffPost Home on Twitter, Facebook, Pinterest, Tumblr and Instagram.
**
Do you have a home story idea or tip? Email us at homesubmissions@huffingtonpost.com. (PR pitches sent to this address will be ignored.)
Loading Slideshow
Beekman Beer Garden Beach Club

Located at the former Water Taxi Beach in South Street Seaport, <a href="http://www.beekmanbeergarden.com/" target="_hplink">Beekman Beer Garden</a> is a one-stop-shop for summer fun: ping pong, chess, live music, sand, fire pit, tents for when it rains, kids allowed!

Hotel Chantelle

<a href="http://hotelchantelle.com/" target="_hplink">Hotel Chantelle</a> is actually not a hotel at all (go figure). It feels instead like a Parisian garden, and it's the perfect LES spot to enjoy a breezy summer afternoon and one of their delicious house cocktails. (We're partial to the Pineapple Express.)

Alma

An oldie but goodie in Carroll Gardens, <a href="http://almarestaurant.com/" target="_hplink">Alma</a> is the quintessential backdrop for rooftop drinking. Order a margarita and take in the exquisite view spanning from the Brooklyn piers to the Empire State Building.

Berry Park

A beer garden on a roof top with <em>The Simpsons</em> trivia nights? Only in Williamsburg. At <a href="http://berryparkbk.com/" target="_hplink">Berry Park</a>, you can pick from 15 different -- mostly German -- brews on tap (as well as frozen drinks and liquor), take in a soccer game on the projector screen, and stare at all those suckers down below at McCarren Park. On and don't forget about the gorgeous views of the Manhattan skyline.

Night of Joy

We have a soft spot for <a href="http://nightofjoybar.com/" target="_hplink">Night of Joy</a>'s rooftop bar, which provides a glorious view of the BQE. After a few of their terrific margaritas, the concrete jungle will seem more like a lush tropical vacation, thanks to the many plants.

La Piscine

The brand new must-check-out rooftop bar this summer is atop Chelsea's <a href="http://www.hotel-americano.com/?cat=6" target="_hplink">Hotel Americano</a>.<br> At La Piscine, dip your piggies in the pool or take cover in a cabana while sipping on $16 cocktails (hey, such swankiness is gonna cost you).

Jimmy

Located atop the James Hotel in Soho, <a href="http://jimmysoho.com/" target="_hplink">Jimmy</a> is what rooftop bar dreams are made of. There's a pool, 360-degree views of the Manhattan skyline, and cocktails made with fresh-squeezed juice.

230 Fifth

<a href="http://www.230-fifth.com/" target="_hplink">230 Fifth</a> -- Steven Greenberg's 22,000-square-foot rooftop oasis in the Flatiron -- is the city's largest. So even if every douchebag in town is there, there's still room for you and your buds. From the stellar view, plethora of palm trees, fountains and furniture from Greenberg's private collection, it's impossible not to enjoy oneself.

The Iris and B. Gerald Cantor Roof Garden

On top of the Met is one of the city's most unpublicized rooftop drinking spots. Grab a frozen daiquiri and walk through Tomás Saraceno's new modular exhibit <em><a href="http://metmuseum.org/exhibitions/listings/2012/tomas-saraceno" target="_hplink">Cloud City</a></em> on display there this summer.

The Delancey

<a href="http://thedelancey.com/" target="_hplink">The Delancey</a>'s rooftop is like a piece of South Beach plopped right into the LES. Go for a rock show downstairs, stay and linger over drinks in the lush garden overlooking the Williamsburg Bridge.

The View at Marriot Marquis

This city's <em>only</em> revolving rooftop bar and restaurant. It's all about embracing the gimmick at <a href="http://www.theviewnyc.com/" target="_hplink">The View Loung</a>e at the Times Square Marriot Marquis.<br> Order a Long Island Iced Tea, a Grasshopper or a Singapore Sling, and peer out the window for an ever-changing view.