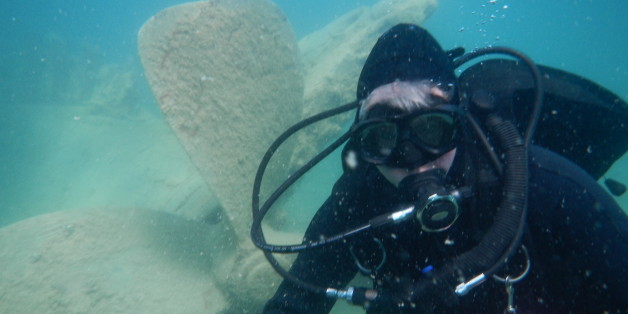 Michigan Gov. Rick Snyder is One. Wet. Nerd.
A certified diver, the Republican governor (who gave himself the "One Tough Nerd" nickname during his gubernatorial campaign) visited the Thunder Bay National Marine Sanctuary in Alpena Tuesday in the northeastern area of the state's Lower Peninsula.
He and a crew took an hour-long boat ride on Lake Huron to the site of the Monohansett, which sunk in 1907 after catching fire, according to the The Alpena News.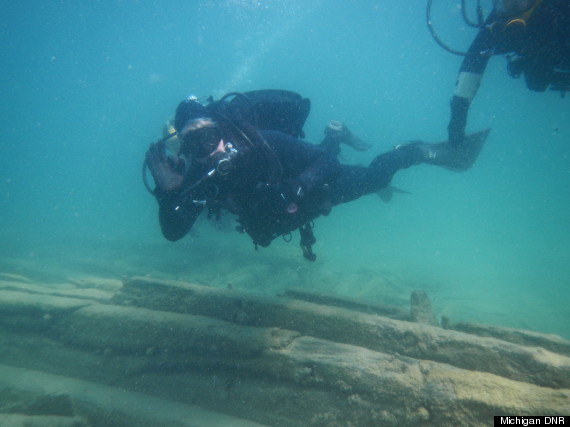 Wayne Lusardi, State Maritime Archaeologist, Thunder Bay National Marine Sanctuary/Michigan Department of Natural Resources
With a high of 89 degrees, it was likely a good day for a swim, and for the planned visit to the nearby county fair. Snyder took the opportunity to tout the state's tourist attractions.
"It's just a fabulous asset for the State of Michigan," Snyder told MLive. "We have people coming from all over the world to come here, visit and dive."
The underwater preserve is home to more than 100 shipwrecks, according to MLive.
After toweling off, Snyder cast off his scuba gear for more serious matters. On Wednesday, he's back to the grind, ditching the wet suit for a week of pushing Medicaid reform and expansion as opposition ramps up. The plan of attack from Americans for Prosperity's Michigan chapter? Free hot air balloon rides.
Michigan politicos sure seem to be experts at sneaking sports and summer outings into their work schedules. But they're not the only ones:
PHOTO GALLERY
BEFORE YOU GO
Politicians Exercising
PHOTO GALLERY
Politicians Exercising