There's nothing wrong with saying, "See you later, alligator," unless it's a real alligator that you left in your mom's bathtub.
Authorities in Volusia County, Fla., have charged Sean Lewis, 45, with alligator poaching after his mother called 911 on Monday to report him.
However, the friend never returned.
After a while (crocodile), Lewis decided to keep the animal in a bathtub in a home he shared with his mother.
She wasn't pleased, especially after he converted the bathtub into a makeshift aquarium, with a cinder block inside meant to simulate dry land and an overhead heat lamp to simulate sunlight.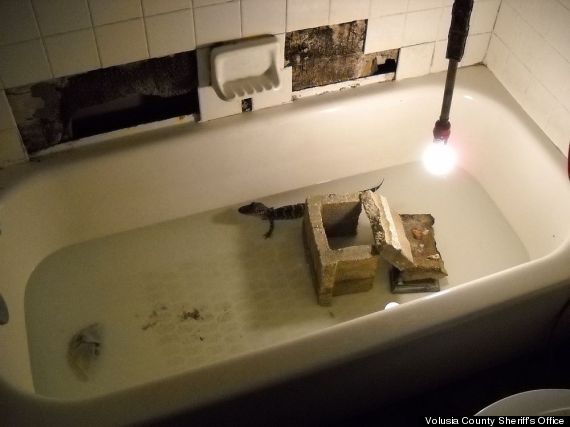 The woman called 911, and authorities came over to get the gator.
Although the tub provided a reasonable amount of room for the gator to move, Bonnie Breilbeil of the Central Florida Zoo said it was only a matter of time before it would have become more aggressive.
Lewis is now in custody at Volusia County Jail, while the gator has been released into the St. John's River, according to WFTV.
SUBSCRIBE AND FOLLOW
Get top stories and blog posts emailed to me each day. Newsletters may offer personalized content or advertisements.
Learn more