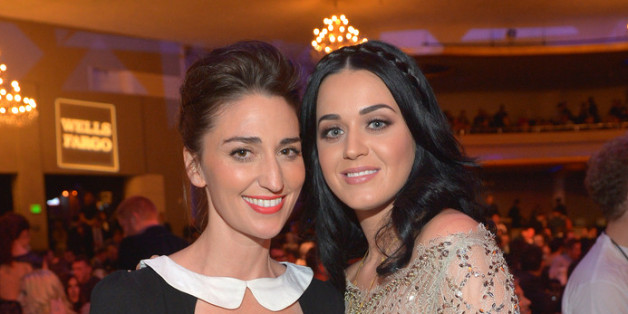 Say what you want to say: According to Yahoo! Chart Watch, Sara Bareilles' "Brave" will jump from 66 to 46 on the Billboard Hot 100 chart for the week ending Aug. 18, the track's highest position since its release in April. The leap coincides with the release of Katy Perry's "Roar," which sold 557,000 copies in its first week of release -- and also sounds a lot like "Brave."
That Bareilles' "Brave" would experience a fourth-quarter comeback after its association with "Roar" is far from surprising. As Billboard noted last week, Bareilles' label, Epic Records, was planning to promote "Brave" on mainstream radio "as a direct result of the chatter of the two songs sounding so similar."
Bareilles, meanwhile, is having a real moment: In addition to the chart success and her connections with Perry, she also performed the song with Taylor Swift in Los Angeles this week. Here was Swift's endorsement:
"Guys, there's a song that came out a few months ago, and I listen to it every single time I have a bad self-esteem day -- which is a lot," Swift said while introducing Bareilles. "This song is so beautifully written. It's so original. It's something I've listened to hundreds and hundreds of times by an artist who I absolutely adore. A singer-songwriter who's so incredibly talented, it's ridiculous."
Neither Bareilles nor Perry have made public comment on the similarities between "Brave" and "Roar," though Bareilles did post this tweet about loving everybody. It's a sentiment she might feel even stronger about after viewing the sales chart.
[via Yahoo!]
PHOTO GALLERY
BEFORE YOU GO
Katy Perry's Style Evolution
PHOTO GALLERY
Katy Perry's Style Evolution