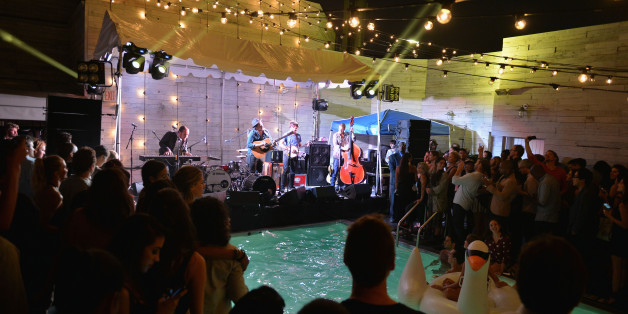 It can be a bit awkward when an act that sells out arenas gets booked for a small, insider event, as there's certainly a difference between the energy that radiates off of thousands of fans who pay money to see a band, and a couple hundred well-connected people who may or may not be able to name any of the hired group's Billboard hits.
Such awkwardness wasn't on hand Thursday night on the rooftop of SoHo House, New York's well-appointed professional and social club for creatives, this despite the fact that Grammy winners Mumford and Sons were booked to provide the entertainment for the establishment's 10th anniversary party. And while a handful of people whom HuffPost Entertainment spoke with admitted they had never willingly listened to Marcus Mumford and his fellow British folk rockers before, the band's charisma and self-deprecating humor made it impossible not to like them. (That Mumford & Sons were able to perform beside the pool was a victory in and of itself; downpours soaked much of Manhattan throughout the early afternoon, but the clouds had dissipated by the time they began playing.)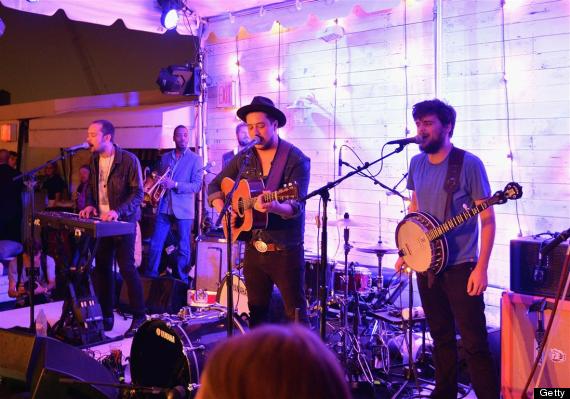 The band was on a stage on the edge of the pool, leaving "plenty of room down in front," as Mumford remarked. Some bikini clad guests were already in the pool before the performance began, but soon enough, fully clothed attendees began trickling in, one "look at me" jump at a time. The Sons were amused: "Can some fat people get in the pool?" band member Winston Marshall asked. "Don't just do this half-assed, New York thing where only the buff people get in the pool ... If you love SoHo house, you'd take your top off."
"Just one fat bloke, then we'll play another tune," he added. No one obliged. By the time the band finished its two-hour set, it had blasted its way through hits like "I Will Wait," "Sigh No More" and "Little Lion Man," and even played backup as part of "Mumford Karaoke." A seemingly random audience member volunteered to sing AC/DC's "You Shook Me All Night Long," which was far better than it should have been, and a talented chap by the name of John Legend took to the keys to sing Marvin Gaye's "I Heard It Through the Grapevine" with a friend of Carey Mulligan (who herself is Mumford's wife).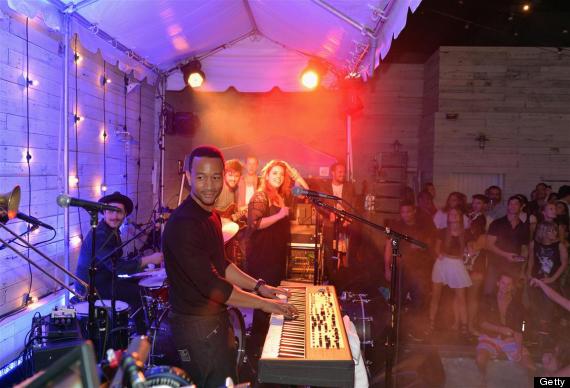 It was, all in all, a successful evening. SoHo House played host to not only Legend (who was seen laughing it up in the lobby as the clock neared 1 a.m.), Mulligan and the band, but also Jennifer Connelly, Will Forte, Imogen Poots, Anthony Mackie, Jenna Lyons, Kyle MacLachlan, Alan Cumming and a smattering of downtown Guest of a Guest regulars. It's perhaps of note that "Dirty Burgers" from one of SoHo House's London establishments were handed out. They, too, were better than they should have been.
SoHo House's 10th Birthday Party
SUBSCRIBE AND FOLLOW
Get top stories and blog posts emailed to me each day. Newsletters may offer personalized content or advertisements.
Learn more