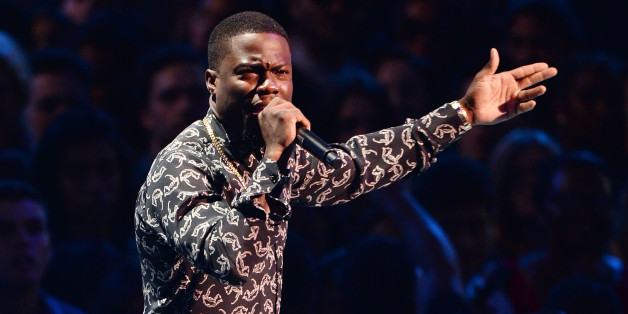 One Direction was supposed to usher us through the MTV Video Music Awards on Sunday by serving as the evening's hosts. The boy band presented the first award of the ceremony minutes after taking the stage, handing out Best Pop Video to Selena Gomez. After that, we never saw the fivesome again, except via sporadic crowd shots and during their acceptance of the Song of the Summer honor.
Instead, Kevin Hart, who hosted the 2012 awards, took the stage twice. The comedian repeatedly claimed he was not the VMAs' host, yet he was the only person to shepherd the awards along in any form.
Hart offered his signature humor in response to the ceremony's zaniness. "Miley better get a d--k pregnancy test after all that grinding," he joked after the singer performed "We Can't Stop."
He also warned Taylor Swift and Selena Gomez to "stay the hell away from" Robin Thicke. "Unless y'all want to end up on a d--k Amber Alert or something, y'all keep your a--es still."
Live updates from the show are available below.
PHOTO GALLERY
BEFORE YOU GO
2013 MTV Video Music Awards Red Carpet Arrivals
PHOTO GALLERY
2013 MTV Video Music Awards Red Carpet Arrivals
08/25/2013 11:26 PM EDT
That's It For The VMAs
The 2013 MTV VMAs were something else. Thanks for joining!
08/25/2013 11:26 PM EDT
No, Boo!
YOU'RE GONNA HEAR ME SNORE!!! AM I RIGHT????

— bobby finger (@bobbyfinger) 4 years ago
08/25/2013 11:20 PM EDT
Here's Her Roar
Katy Perry performed "Roar" for the first time, and it was glorious.
08/25/2013 11:18 PM EDT
The Video Of The Year Winner Is ...
08/25/2013 11:15 PM EDT
Joseph Gordon-Levitt Announces The MTV VMA For Video Of The Year
With a silly voice.
08/25/2013 11:12 PM EDT
In Case You Blinked During The VMAs
Ladies and gentlemen, the reunited NSYNC. http://t.co/vsH4DT5Yb2

— Hunter Schwarz (@hunterschwarz) 4 years ago
08/25/2013 11:08 PM EDT
So True
The perfect time for a Bruno Mars performance is totally TWO HOURS into the #VMAs.

— Jesse Fox (@JesseDavidFox) 4 years ago
08/25/2013 11:07 PM EDT
lolz
it would be amazing if nsync reappeared right now by lowering down from the ceiling on marionette strings

— kalkutta (@djkalkutta) 4 years ago
08/25/2013 11:07 PM EDT
Because This Bruno Mars Performance Is Boring
Let's remember this:
Me during Justin Timberlake's performance http://t.co/0IKZ3MXGMy

— things in life (@ItsThingsInLife) 3 years ago
08/25/2013 11:00 PM EDT
Lena Dunham Checks In
VMAs: Stop all this "what's up Brooklyn!!!" What's up is I'm 10 blocks away in my nightgown trying to keep my dog from drinking his own piss

— Lena Dunham (@lenadunham) 4 years ago