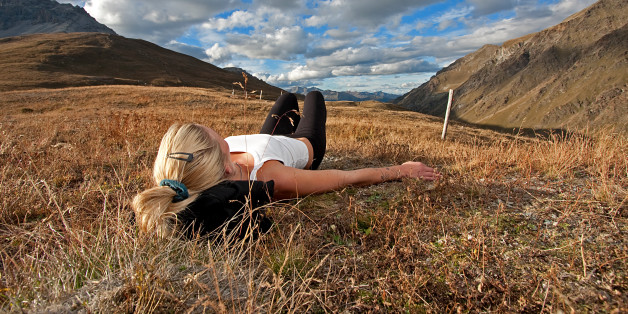 By Joel Davis
We live in a noisy world. The manmade environment that surrounds us, the devices we carry with us, the never ending to do list: all of it clamors for our attention, all of the time. It's no wonder that "noise-cancelling" headphones are hot products, or that "acoustic ecology" is an increasingly popular movement. Our environment screams at us 24/7, and the wear and tear of this ceaseless stream of "information" is beginning to show.
In a way, the constant assault of noise separates us from our own humanity. It deprives us of the true quiet we each require to process and reflect upon what's going on in our lives, to fully relax, unplug and refresh. Like rising floodwaters, the endless din is driving people to seek relief from the constant assault of noise, to climb to quieter ground.
One potential solution to the sonic pollution we endure is readily available, can cost as little as nothing, is accessible anywhere at anytime and, most surprisingly, does not involve apps, webinars or any other technology, modern or otherwise. In fact, it's thousands of years old, and readily voice-activated.
So, what is this magical balm to the daily noise? The answer: Mantra. Developed 5,000 years ago in India, mantras are devotional chants, sung in the ancient Indian language of Sanskrit. But mantras also have a foundation in science. Certain sounds create certain responses in the body, and mantras have been scientifically demonstrated to instill a sense of well-being. They are also shown to be a vibrant force for healing. When chanting mantras, you are essentially harnessing the power of sound to block out the noise, bringing about relaxation and peace.
In a way, these mantras are a kind of "code." When that code is cracked, they will, at the very least, restore a quiet sense of calm, a balm to the daily assault of sound. But when one really gives themselves to the mantras, they have the potential to transform and heal.
Two of the leading messengers of such mantra practice are Deva Premal & Miten, partners in music and life, who for nearly 20 years have been sharing the beneficial gifts of mantra. In Deva Premal and Miten's view, "We see ourselves more as flame carriers of a 5,000 year old tradition than emotion-based musicians. The music we make is born out of a committed spiritual practice. We meditate, we investigate and our music is a result of that experience. It's more a case of life and death than entertainment!"
Whether you listen to, or chant a mantra for five minutes to find relief after a mad day at the office, or you delve deep and find solace in how they soothe the worst of life's difficulties, depressions and times of terrible trauma, these sacred ancient audio formulae can get you out of your rut and into a new you.
Creating a mantra practice requires no prior experience or special training, nor much of your time, but it can make a real difference. As Deva and Miten remind us, "We're taking 15 minutes out of our day to go inside and nourish our inner space -- a world that we often forget -- and this simple practice brings a quietness, and a sacredness, into the whole day."

ALSO ON HUFFPOST:
PHOTO GALLERY
BEFORE YOU GO
Morning Mantras
PHOTO GALLERY
Morning Mantras