Facebook's photo albums are getting more social.
Facebook is rolling out Shared Photo Albums, a new feature that allows your friends to contribute to your Facebook albums. According to Mashable, up to 50 people can contribute to one photo album if the creator chooses, and each person can contribute up to 200 photos. Until now, each photo album could only be edited and added to by its creator.
"Hundreds of millions of photos are uploaded onto Facebook each day, and today, we're making it even easier for friends to share photos with the rollout of Shared Photo Albums," a representative from Facebook told The Huffington Post. "Whether you're at a wedding, birthday party, or fresh off of a trip, all your friends will be able to add photos, tag photos and edit just one album."
This new feature is similar to one that Google+ already has. Google+ allows an event's guests to upload and share photos directly to one big collection of photos from that event.
Up to this point, many have created hashtags for special events, like weddings, to keep photos in one place on Facebook and Instagram. The new feature should make the process of collecting photos from an event a whole lot simpler.
Shared albums will be rolled out slowly starting on Monday for English users, before expanding internationally. The feature is not available for Pages.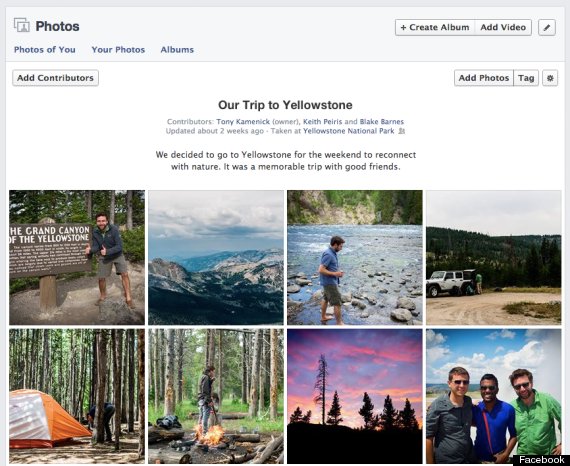 PHOTO GALLERY
BEFORE YOU GO
10 Great Photography Apps For iPhone (That Aren't Instagram)
PHOTO GALLERY
10 Great Photography Apps For iPhone (That Aren't Instagram)