The New York Post thinks Christine Quinn and Joe Lhota should face off in this year's general election for New York City mayor.
On Monday, the paper--citing the need to choose candidates that were willing to prevent a Detroit-like downfall-- endorsed Quinn in the Democratic primary and Lhota in the Republican primary.
The New York Times also backed Quinn and Lhota for the fast-approaching September 10 primaries.
In choosing a Democratic favorite, The Post called the decision-making process a "difficult task" because all the candidates come with "considerable downsides."
For City Council Speaker Quinn, the editorial board criticized her more liberal endeavors since election season began, namely her support of the city's paid sick-leave bill and legislation proposing additional oversight for the NYPD.
The Post said, when compared to her opponents, "she shines" and is most likely to continue Mayor Michael Bloomberg's successes.
The hope for Quinn is that her recent disappointments are a function of the election-year silliness that getting ahead in today's Democratic Party sadly seems to demand. The Democratic race comes down to a question of leadership and sensibility. Unlike her rivals, Quinn has shown both over the years. There is reason to hope that a Mayor Quinn, free from election-year pressure, would revert back to her more moderate and sensible judgments.

So The Post urges a vote for Christine Quinn in the Democratic primary.
As for Lhota, who The Post "enthusiastically endorses," the board believes the former MTA chairman will be able to reign in spending.
Their only complaint is he lacks a clearly defined message for New Yorkers.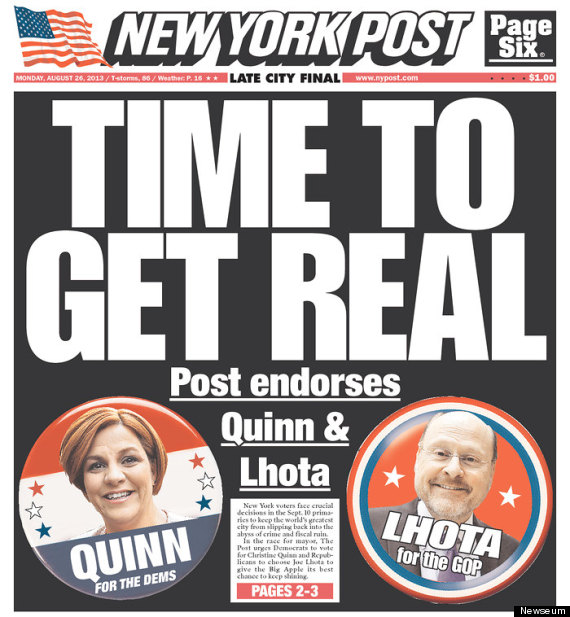 RELATED ON HUFFPOST:
PHOTO GALLERY
BEFORE YOU GO
Celeb Endorsements For NYC Mayoral Candidates
PHOTO GALLERY
Celeb Endorsements For NYC Mayoral Candidates