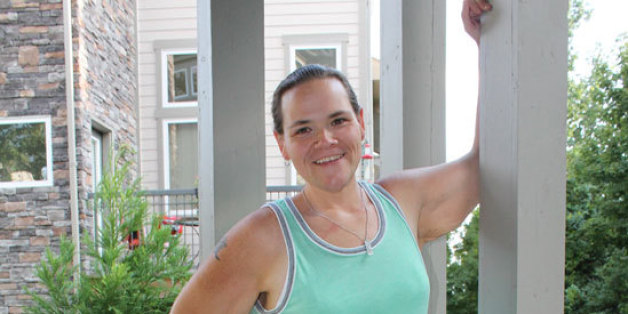 One of the reasons I started my website is that I wanted a place for women to come together and dream. We women need to know that we don't have to hang on to an old dream that has stopped nurturing us -- that there is always time to start a new dream. This week's story is about a woman who was always overweight, and was constantly told that she was too big to do the things she wanted to. The final straw came when she was unable to donate a kidney to her ailing sister. Through hard work and determination, Annette lost almost 200 pounds and is on her way to her goal weight of 150. -- Marlo, MarloThomas.com
By Lori Weiss
For as long as Annette Miller can remember, she simply accepted the fact that there were things she couldn't do. By the time she was ten, she was wearing plus-size clothes and her family was trying to protect her from being embarrassed in front of her friends.
"I loved the idea of playing sports," Annette recalled. "And in Lobelville, Tennessee, you either played basketball or supported it. We've got more championships than any other town in Tennessee! But my aunt told me I was too heavy to play."
"She did it out of love. She didn't want to see me get hurt. But I carried that with me. Anytime I couldn't keep up with the other kids, I'd remember what my aunt said and use that as a crutch. I'd just tell myself I'm too fat for that."
By the time she got to college, Annette's weight had risen to more than 300 pounds. And while she dreamt of going sky diving and zip lining with her friends, even riding a roller coaster seemed out of her reach -- when she was told the safety harness wouldn't wrap around her waist.
Again, Annette accepted what she saw as her fate. This was who she was and there was no one in her circle that was suggesting anything else. She'd grown up in a town where it wasn't unusual to be overweight and at the restaurant her family owned, fried food and mashed potatoes were all part of the daily fare.
"I never even had a doctor suggest that I lose weight," Annette explained. "I didn't have the health conditions most heavy people have. I wasn't diabetic. I didn't have high cholesterol. So maybe that's why no one said anything."
So, instead of pursuing what she thought she couldn't do, Annette put all her energy into the things that came more naturally. She was at the top of her class and after graduation she got a job in Nashville and quickly began climbing the corporate ladder.
But then, one day, a doctor did say something -- something that would change her life forever. He told her that at 385 pounds, she was too heavy to donate a kidney to her ailing twin sister. And that was the moment Annette decided that no one was ever going to tell her what she couldn't do.
Article continues below slideshow
It Ain't Over: Annette Miller
"My sister, Bobbette, had been sick from the day she was born. She had a liver transplant by the time she was three. I was always protective of her. And I went to every doctor appointment. The doctors were beginning to notice that her kidney function was beginning to drop and within months we knew that she was going to need a transplant. I was sure from that moment that I'd be the donor. But when they weighed everyone in the family and figured out our BMIs, they told us that none of us could help."
"The moment they said I couldn't help my sister, I knew I had to make a change. I knew that once Bobbette was taken care of, it was going to be my turn."
Six months later, after finding a living donor through an extensive social media campaign, Bobbette got the kidney that would save her life -- and Annette began the journey that would save her own.
"I just started walking around my apartment complex," Annette said, "just walking. And within four months, I lost 25 pounds. By then it was January 1st of 2012 and I decided to do what everyone does on the first of the year -- I joined a gym. I told a trainer there, I'm here to lose weight, but my goal is to feel better. I couldn't focus on the 200 pounds I needed to lose. I had to take the number out and just focus on feeling better. I didn't step on a scale because I knew if I didn't see the number I thought I should see I'd backslide."
Annette began working out three days a week and slowly making changes to her diet. The fried fish she grew up on was now pan seared. She cut out starchy foods like potatoes and rice and began eating whole grains. But the biggest change came when her friend Anje suggested she attend an open casting call for "The Biggest Loser."
"There were hundreds of people -- many who couldn't even take a step without losing their breath. Seeing that was enough to make me decide, that if I wasn't picked for that season, there was no way I was going to let myself be big enough to even apply the next year. I knew that everything they show you on "The Biggest Loser," I could do on my own."
And that's exactly what Annette did. She pulled together her own fitness team -- a team of her friends in Nashville.
"Anje is a fitness fanatic," Annette laughed, "and she began working with me. She told me to pick something I wanted to do and that we'd do that for four months. I decided I wanted to run. I wanted to do a 5K."
"So we began at the YMCA and she challenged me to run the track. 12 times around is a mile. At first, I'd run one lap and walk three and then I'd run another one -- until finally I was able to do a 22 minute mile. That's not fast, but I was okay with that. I ran a mile! And then we began working on weight training. We kept switching it up, so my body didn't know what was coming. And that's when the weight started coming off."
And by January 1st of this year -- just twelve months from the first time Annette had set foot in a gym, she was ready to run her first 5K.
"I really have the best friends in the world. There were eleven of us and we all went to bed early on New Years Eve, so we could run the race together. When I ran that first mile in under 15 minutes, I knew I was on my way. But then, as we were approaching the finish line, my friends all stopped. They wanted me to get ahead, so they could watch me cross the finish line. Then they all piled on top of me!"
And while Annette had met her goal, that big finish was really just the start. Months before, she had heard about CNN's Fit Nation -- a contest in which the network picks six viewers to train for the Nautica Malibu Triathlon, which is a race that is sponsored by Equinox and includes a half-mile swim in the Pacific Ocean, an 18-mile bike ride and a four-mile run.
She'd sent in her entry and heard just after Christmas that she was one of 30 finalists. Two days after she ran her first race, Dr. Sanjay Gupta welcomed her to the CNN team.
"They fooled me into thinking they were down to the final 12," Annette said with a smile, "and they told me that I needed to do a screen test via Skype. Then Dr. Gupta walked in and said 'Surprise!' I had to hide my face, because I was in tears. I won the athletic Lotto."
Training began almost immediately, with the six team members meeting in Atlanta to set up their personal plans. They were assigned mentors in their local areas -- and now, the woman who was told she was too heavy to ever be an athlete, is down to 195 pounds and preparing to compete in the September 8th triathlon in California.
She's scheduled skin removal surgery for early next year, just before her 34th birthday. It's a present to herself -- one that will allow her to show off the results of all her hard work and celebrate a new beginning.
"I see the world differently now. Rather than seeing what I can't do, I see the possibilities. It's like being born again. Everything is new. Everything is an option."
"I never knew I could be this happy" Annette said softly. "It's not just because I lost the weight. It's because now I can run, I can play volleyball and I can ride a bike. This April, I ran a half marathon, but rather than running ahead of my friends to the finish line, I made sure we were all holding hands as we reached the end. Doing this by myself didn't get me here. It was because I had the support of my friends."
Add Marlo On Facebook:
Follow Marlo on Twitter:

Weekly Newsletter
Sign up to receive my email newsletter each week - It will keep you up-to-date on upcoming articles, Mondays with Marlo guests, videos, and more!