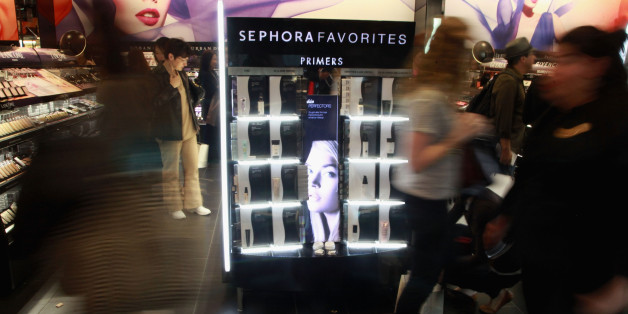 It's happened to the best of us. You leave work and are headed to a party/date/event, and you suddenly realize... you look like crap. After hours in the office, your hair has fallen flat, your makeup has faded, your skin is shiny and you lost that morning glow, like, seven hours ago.
What to do? Just do as the HuffPost Style editors do: Pop into the nearest Sephora and give yourself the fastest, most efficient and cheapest on-the-go makeover in existence. Disclaimer: This is not for the squeamish germaphobes.
The 5-Minute Sephora Makeover:
1. Burst through the door. You've got places to be and no time to talk to suspicious sales assistants. 30 seconds
2. Head for the nearest array of foundations. You're not going to start messy with foundation, of course, but near the foundation you can usually find a brand's mattefying primer or pressed powder. (You can't go wrong with Clinique's Stay-Matte Sheer Pressed Powder.) Use a sponge and swipe some of that on. 1.5 minutes
3. Grab one of those angled cotton swabs Sephora has and make a beeline to the closest black eyeliner. Rub swab on eyeliner, eyeliner on eye. Don't poke yourself in the eye. 1.5 minutes
4. Make your way to the back of the store for a spritz of dry shampoo. We like DryBar's Detox Dry Shampoo, which is in a pale green or white bottle. 1 minute
5. Last but not least, lips! As you make your way to the door, grab the nearest lip product you can find and use a cotton swab to rub some on. Voila! 30 seconds
Note: This method of speed-beautifying works at Ulta, CVS and department store makeup counters. Serves one, because who's got time to spruce up anyone but themselves at a moment's notice?
Just don't overdo it:
PHOTO GALLERIES
Worst Celebrity Beauty Looks
Want more? Be sure to check out HuffPost Style on Twitter, Facebook, Tumblr, Pinterest and Instagram at @HuffPostStyle.