"Try God. The other WHITE meat," was not the original message on the billboard sponsored by the Catholic Radio Network in the Boston area. Vandals defaced the signs along the Massachusetts Turnpike in Brighton, covering up the original text of "Try God. 1060Am Catholic Radio," with a snarky message.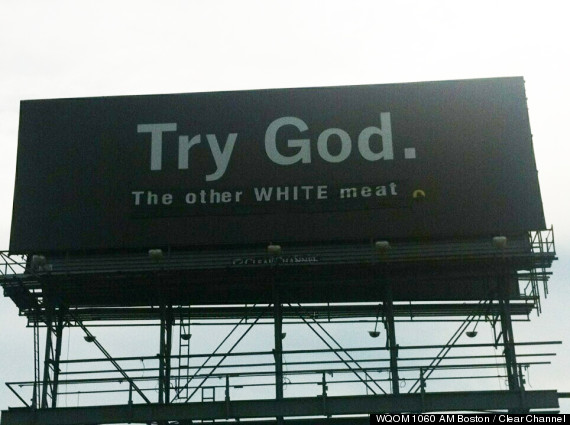 Chris Kelley, the station manager of 1060AM WQOM Catholic Radio, commented, "This is clearly not a circumstance of some teenagers with spray paint. Someone went to a lot of trouble to make it appear that the new text was a real billboard message," in a Facebook post by the station.
He was quick to point out the silver lining of the incident, noting, "This act, however, is an indication that the 'Try God' billboard campaign is attracting attention and making people reflect on the role of God in our lives."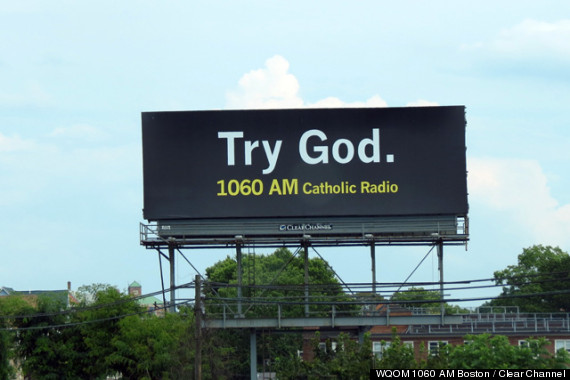 Kelley then invited the vandals to "Try God" themselves, "perhaps by listening to 1060AM Catholic Radio."
Also on HuffPost:
Loading Slideshow
In this Sept. 9, 2010 photo, a billboard erected by atheists in Oklahoma City reads " Don't believe in God? Join the club". Nick Singer, the coordinator of a local atheists' group called "Coalition of Reason," recently received $5,250 from its national counterpart to erect the billboard along Interstate 44 near the Oklahoma State Fair. Oklahoma ranks eighth in the nation for percentage of residents who self-identify as Christians (85 percent), according to an analysis of the 2008 U.S. Religious Landscape Survey conducted by the Pew Research Center's Forum on Religion and Public Life. (Sue Ogrocki, AP)

Atheist billboard on Capital Blvd. in Raleigh, North Carolina, can be seen March 29, 2011. (Chris Seward, Raleigh News & Observer / MCT)

A billboard sponsored by an atheist group is displayed near the entrance to the Lincoln Tunnel in North Bergen, N.J., Wednesday, Dec. 1, 2010. Now, the Catholic League has countered by putting up its own billboard near one of the tunnel's New York City entrances. (Seth Wenig, AP)

An atheistic billboard in Chicago. (<a href="http://www.flickr.com/photos/ericingrum/4038228725/" target="_hplink">Eric Ingrum</a>, Flickr)

A billboard sponsored by a Catholic group is displayed near an exit of the Lincoln Tunnel in New York, Wednesday, Dec. 1, 2010. Similarly, a billboard sponsored by an atheist group is displayed near the tunnel's New Jersey entrance. (Seth Wenig, AP)

<a href="http://www.huffingtonpost.com/2012/03/13/atheist-slavery-billboard-pennsylvania-raises-tempers_n_1342268.html">From RNS' Diana Fishlock</a>: A billboard erected in one of the Harrisburg, Pa.'s most racially diverse neighborhoods featured an African slave with the biblical quote, "Slaves, obey your masters." It lasted less than a day before someone tore it down.

An atheist group <a href="http://www.huffingtonpost.com/2012/03/07/american-atheists-myth-billboard-brooklyn-jewish-rejected_n_1327527.html">was blocked</a> from erecting a billboard in a heavily Jewish neighborhood in Brooklyn, New York.