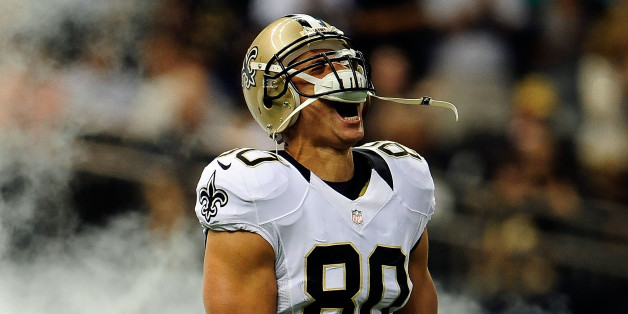 Jimmy Graham is the calm center of the tight end universe.
With season-ending injuries sidelining tight ends Dustin Keller and Dennis Pita during the preseason and New England's Rob Gronkowski still recovering from injuries incurred last season, this position is arguably the most volatile in fantasy. Gronk could be sidelined until Week 3. On a much brighter note, Tony Gonzalez isn't retiring but he will be 37 when the season starts. But can he keep up his production?
The Saints' star, however, is healthy and coming off a 2012 campaign in which he led the Saints in receptions (85). He finished with nine touchdowns and 982 receiving yards despite playing hurt. His 2,292 receiving yards over the last two seasons (most of any tight end) to go along with 20 touchdowns in that span make him the easy top choice at the position. Of course, Graham isn't the only dependable TE that will be ready for action in Week 1: Dallas' Jason Witten and San Francisco's Vernon Davis are no slouches either.
In order to provide a comprehensive appraisal of players that you'll be drafting for your fantasy squad, we've poured over several of the most popular -- and, hopefully, prescient -- rankings available on the Internet* from places like ESPN, Yahoo!, CBS, and SI.com to create a one-stop look at the combined wisdom of many of the foremost fantasy experts. The rankings below were created by determining the average overall ranking assigned each player in the sources consulted. For each player, we've noted his average overall ranking as well as the highest and lowest value he received.
*List of sources consulted
Top 15 Fantasy Tight Ends
NOTE: Rankings collected on Aug. 24
SUBSCRIBE AND FOLLOW
Get top stories and blog posts emailed to me each day. Newsletters may offer personalized content or advertisements.
Learn more