When we first saw the Pour Mason Kickstarter project we thought to ourselves, "Brooklyn, you have gone too far this time." To be fair, it turns out that it's actually Easton, PA's Intelligent Design Co. who have gone too far, but the sentiment remains.
Now listen, we're not curmudgeons and we like small businesses to succeed, but there is something about turning a canning jar into a coffeemaker that makes us feel a little bit like we're in a Portlandia episode. Coffee nerds, here's your mason jar pour over system.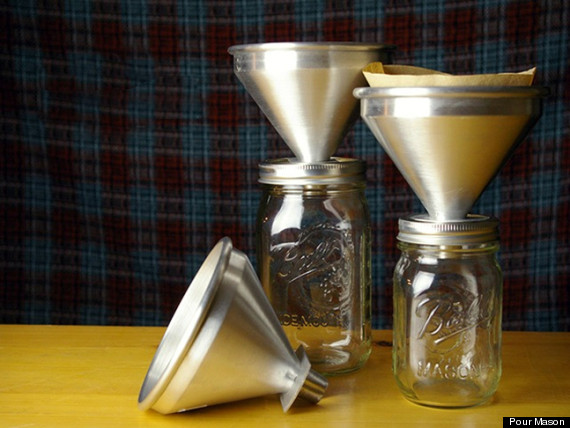 This thing will definitely be popular -- as of this writing, the project has 17 days to go and is already fully funded, and then some. The Pour Mason project also gives a shout out to the other pioneers of making coffee more twee, Cuppow, the makers of the hugely successful drinking lid that turns a canning jar into a sippy cup. They are a match made in coffee hipster heaven.
[via Cool Material]
Want to read more from HuffPost Taste? Follow us on Twitter, Facebook, Pinterest and Tumblr.
ALSO ON HUFFPOST:
PHOTO GALLERY
BEFORE YOU GO
Coffee Accessories You Should Actually Buy
PHOTO GALLERY
Coffee Accessories You Should Actually Buy