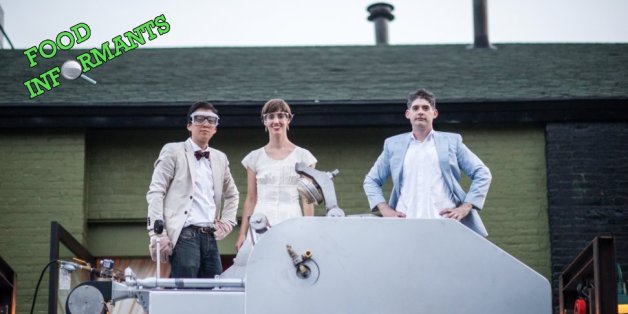 Food Informants is a week-in-the-life series profiling fascinating people in the food world. We hope it will give you a first-hand look at the many different corners of the food industry. Know someone who would make a great Food Informant? Tell us why.
Peter Kim became the Executive Director of the Museum of Food and Drink (MOFAD) in May 2012. Before that, he served as counsel to the museum as an attorney at Debevoise & Plimpton LLP. As a Peace Corps volunteer, he founded and directed a rural arts-based public health program in Central Africa. He also served as an Emerson Fellow for the Congressional Hunger Center and worked at the USDA, where he advised state agencies on food stamp outreach.
Monday, August 12: One day to the Puff Party
Background: On August 12, MOFAD had just concluded a successful Kickstarter campaign to fund its first exhibit, a 3,200-pound puffing gun that heats ingredients under pressure until they explode into a salvo of airy puffs. For decades, this machine was a workhorse of the breakfast cereal industry and produced cereals like Cheerios and Kix. Our plan was to mount the puffing gun on a trailer so it could be used as a traveling pop-up exhibit. We had committed to unveiling the exhibit to our donors on August 13 at a private "Puff Party" and debuting the exhibit to the public on August 17 at New York's Summer Streets festival. MOFAD's exhibit fabrication schedule had been significantly delayed and it was coming down to the wire.
4:45am: I'm up and my adrenaline is pumping -- I've got one hell of a week ahead of me. Over some sunny-side-up eggs liberally dusted with merquén, I review the battle plan for the week.
6:30am: At a truck lot on 125th Street in East Harlem. A couple days ago, I bought a trailer in New Jersey, hitched it to a pickup truck, and drove it here. I need to get this trailer to South Side Design & Building, MOFAD's exhibit fabricator, so they can mount the puffing gun platform on it. When you're not an experienced trucker, driving a 21-foot trailer with a 22-foot pickup truck through New York City is a surefire way to drum up a storm of expletives.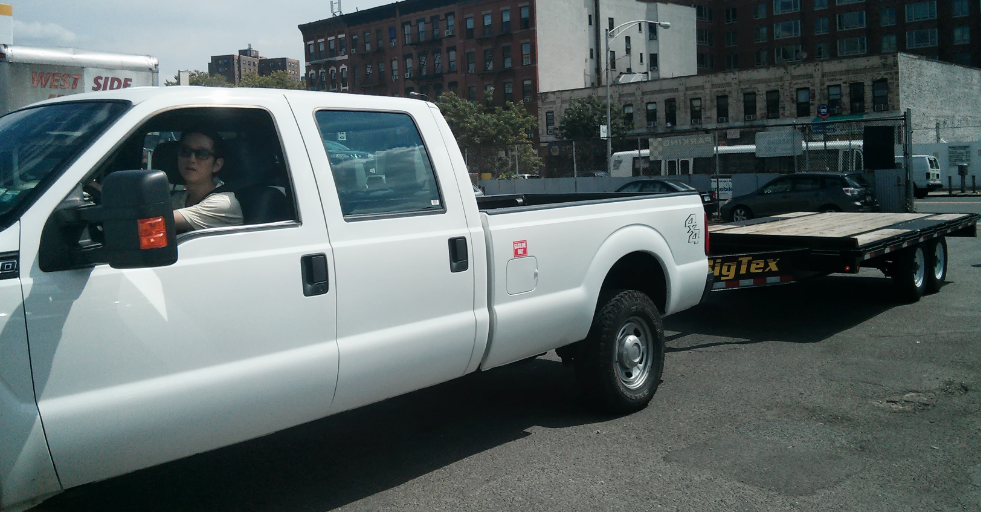 Credit: MOFAD
7:30am: A few dozen angry honks and !*$#-yous later, I deliver the trailer to the fabricator in Greenpoint, Brooklyn. I do a quick tour of their shop to see how things are progressing. Sparks fly as they weld metal as fast as they can. Timing is really tight.
8:30am: In Bushwick looking for a forklift to help with exhibit assembly tomorrow. I pull back the curtains to a Chinese food distributor on Thames Street and see a swarm of forklifts, big and small, buzzing around. Bingo.
"Hey, strange question, but could I borrow one of your forklifts tomorrow morning? I need it to put something called a puffing gun onto a trailer." The response: "Sure, why not."
9:15am: "push broom. booties. gluten-free pasta." At the MOFAD office in the East Village, Emma Boast and I are doubled over laughing at the unintentionally poetic nature of this shopping list. She and I are the only two full-time staff members of MOFAD and have grown close. We hash out what needs to be done and divvy it up.
9:30am-11:00pm: The day is a flurry of activity coordinating everything we need to finish fabricating the exhibit, preparing for the Puff Party, and managing the steady flow of emails and phone calls.
12:00am: My wife Steph is already asleep when I get home. I go over the schedule for tomorrow and pass out.
Tuesday, August 13: Day of the Puff Party
9:00am: I'm at the Heritage Foods warehouse in Bushwick with Emma, where the puffing gun demo rig is set up. We built this with the loose change in our pockets back in June to fire off a test shot for our Kickstarter campaign. And what a shot it was: Paul Adams of Popular Science captured an epic photo of the puff, which looks like something out of Star Wars -- except that's puffed rice that's streaking everywhere in the photo. We couldn't use the demo rig after that one shot since it shattered the very thin, very cheap plexiglass wall of the platform (hence the uncontained explosion).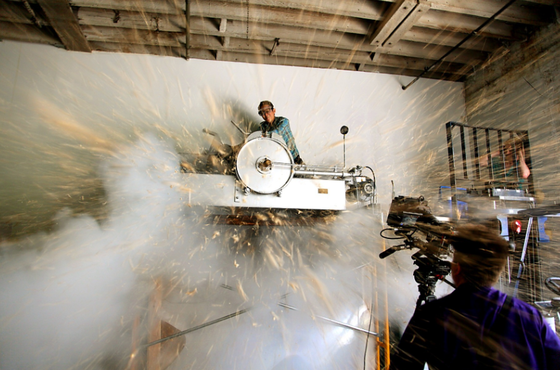 Credit: Paul Adams
It was nice while it lasted but needs to come down now -- nostalgia's for the birds. I start prying apart the wooden box with a giant crowbar.
10:00am: Dave Arnold (MOFAD founder) and Piper Kristensen (MOFAD exhibit engineer) are here and we spend some time hashing out next steps. It's been pouring rain all morning and this has chucked a big, watery monkey wrench into our plans. Our staging area for final exhibit construction is outside so we can't do anything until the rain stops.
12:00pm: Still raining. Pacing and cursing.
1:00pm: The rain stops and we spring into action. South Side brings over the trailer, which now has the metal skeleton of the puff platform on it.
I run over to the Chinese food distributor and get one of their guys to drive a forklift over. He picks the puffing gun up off of the demo rig and, with some work, places it in its new home.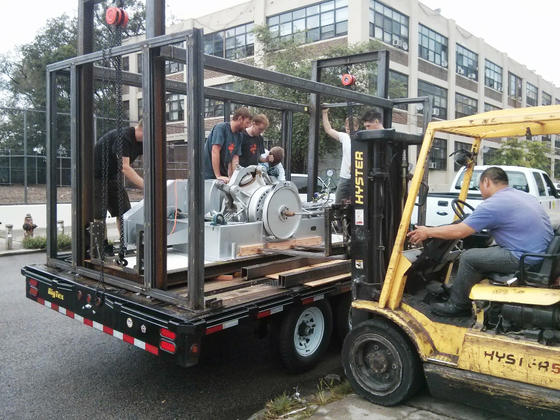 Credit: MOFAD
Harold McGee, who has just flown in for the Puff Party, arrives on the scene to lend a helping hand. We now have a crew of 10 people working at a furious pace to assemble the puffing gun platform.
4:00pm: We're far from done but time's up. We need to get to the venue in Gowanus and keep working from there. Everyone piles into the pickup truck cab and I lug the half-finished platform across Brooklyn. Tension is running high.
As we're driving, I get more than a few "what the heck is that thing?" questions from onlookers. There's not really a good, concise response to that question, but I try my best: "It's a puffing gun. Blows up food. Made breakfast cereal back in the day. First exhibit of Museum of Food and Drink."
5:00pm: We're at the venue and I survey the scene. Nastassia Lopez (MOFAD trustee) and Stef Shapira (MOFAD research assistant) have the party set-up under control and everything is looking beautiful. Several more volunteers jump in and, together, we sprint to finish this thing. In less than one hour, guests will start arriving.
6:00pm: As guests start to arrive, we're putting the final touches on the platform. My wife tells me I look like I stepped out of a coal mine so I run to the bathroom, wipe the shmutz off my face, and change into something decent.
6:30pm: BOOM! We fire the first shot from the puffing gun. Traffic slows. People across the street stop and gawk. Our party guests come closer to see what's going on. Dave and I load up a batch of sushi rice and invite Ted Allen, the host of Chopped and MOFAD's Puff Party emcee, to fire the next shot.
Ted winds up and swings at the trigger. There's a loud bang, applause and whoops from the crowd, and -- poof -- the puffing gun platform is filled with puffed rice. You can hear live audio of this puff on Dinner Party Download.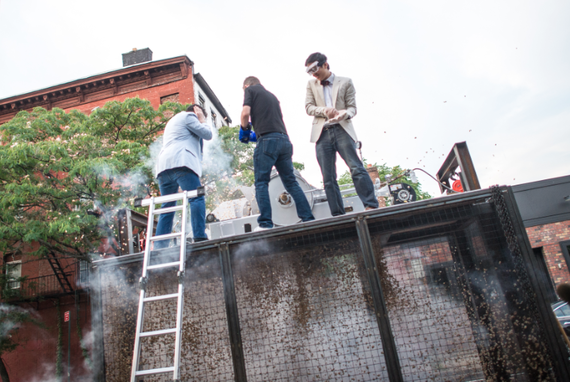 Credit: Daniel Krieger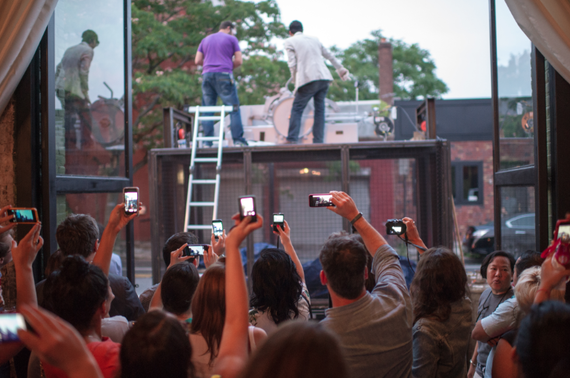 Credit: Daniel Krieger
7:00-10:00pm: The party seems to be going well. As the Museum of Food and Drink, there is some pressure to live up to the "F" and "D" parts of our name. Fortunately, we're doing okay with Momofuku Má Pêche's slow-cooked Niman Ranch short rib dinner, Cap'n Crunch cake from Momofuku Milk Bar, Nicholas Feuillatte champagne, and high-tech cocktails from Booker and Dax. Unfortunately for me, aside from a few sips of champagne, I don't have a moment to eat or drink during the entire party.
The puffing gun keeps pumping out snacks, including puffed tapioca pearls, puffed teff, puffed amaranth, puffed black rice, puffed polenta, and puffed pasta. At chef Anita Lo's request, we try puffing lobster shells but they're a dud -- they expand a little bit but are still unpleasantly crunchy.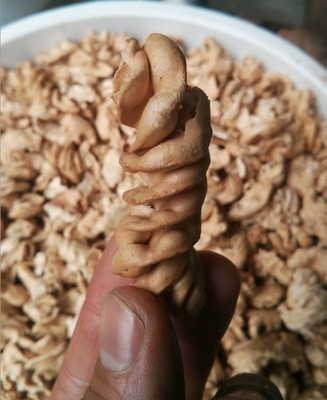 Credit: MOFAD
At one point, Nastassia hands me a microphone and tells me to get on the stage. I ad lib a thank-you speech and pass the mic to Ted Allen, who takes it from there.
12:00am: After tidying up the venue and securing the puffing gun, everyone grabs drinks at Clover Club.
2:00am: I'm back at my apartment with Harold, who is staying with me, and my wife. The three of us watch a video that the New Yorker has just released on MOFAD and the puffing gun. It's beautiful. I haven't eaten since the morning but am too tired to do anything but sleep.
Wednesday, August 14: Three days to Summer Streets
6:30am: I tear myself out of bed. Up and at 'em. Emails with Craig Shillitto, the puffing gun platform architect, to discuss modifications that need to be done to the exhibit before the public debut on Saturday. After that, there's not much time, so I grab a deli egg sandwich (two-eggs-over-easy-with-salt-pepper-bacon-tomato-and-sriracha) as I hustle to the subway.
9:00-11:00am: At the party venue in Gowanus, Brooklyn to load up the pickup truck with everything left over from the Puff Party.
12:00pm: Very unpleasant surprise. I was counting on storing the trailer in Heritage's warehouse but I underestimated the trailer's footprint, and there is no way it's going to fit. South Side's loading dock isn't free anymore either. We need a place to put the puffing gun and we need one soon. Since there's still fabrication work to be done, we can't just drop it in a parking lot. I call everyone I know who might have space for the trailer.
4:00pm: I catch a break: the owner of a nearby loading dock on Meserole Street in Bushwick is generously willing to let us park the puffing gun there until Saturday. He tells me to get there by 5:00pm and call a man named Benito.
4:30pm: Rich and I pull up at Meserole Street and I call Benito. He doesn't speak a lick of English so I have to explain to him what I need in Spanish. The roll-up gate creaks open and, behind, there is a beautiful, empty, puffing-gun-trailer-sized loading dock. Hallelujah. I back the trailer in and unhitch it from the pickup.
5:30pm: Unload everything from the pickup truck into MOFAD HQ. Emma and I huddle for a few minutes before I head back out. She's been handling the labyrinth of permits and approvals we need for our Saturday exhibit debut.
6:00-8:00pm: I prowl the streets of the East Village looking for a parking space for over two hours. The Ford F-350: great for pulling trailers, not great for parking in the city. One parking garage attendant after another vetoes my wheeled behemoth. Finally, I find one parking garage where the attendant says, "If you can fit that thing in here, I'll take it." I want to give the guy a bear hug.
Thursday, August 15: Two days to Summer Streets
8:00am-6:00pm: Today's an office day. Emma and I hustle to prepare for Summer Streets. There are supplies to be ordered, ingredients to organize, and permits to have ready, among many other things. At 1:00pm, I speak to the Food Bank of New York about donating MOFAD's surplus puffed snacks on Saturday. They set up a donation from MOFAD to the Bowery Mission, a homeless shelter in the Lower East Side.
6:30-8:30pm: Emma runs a training for our Summer Streets volunteers, going over the history of the puffing gun and discussing strategies for engaging the public.
Friday, August 16: One day to Summer Streets
9:00-12:00pm: Drive the pickup around town, getting supplies. I'm running on a very tight schedule because I need to get to Heritage by 3:30pm to get everything out of the warehouse before it closes.
1:00pm: The pickup is overflowing with stuff. I need to make a drop-off at the Meserole Street loading dock. South Side has a small crew there working on the platform. There are some drunk guys pretending to bump uglies with a female mannequin at the loading dock entrance. I drum my fingers on the dashboard as they bounce around with the plastic doll. After a few minutes of fun, they unceremoniously toss it aside. I pull the truck in and unload everything.
2:00pm: Emma joins me at Home Depot in Bed-Stuy and we dash through the aisles grabbing things. I eat a couple of empanadas between aisles 18 and 19.
3:30pm: I gun it in the F-350 down Flushing Avenue, weaving through traffic to get to Heritage in time. We arrive just before they are about to close and throw everything we need onto the sidewalk. Emma and I start organizing and packing what we'll need for tomorrow.
5:30pm: We go to Meserole Street. The platform is looking beautiful and has gone from dull gray to bright red. We pack all of our equipment and supplies on the trailer and in the pickup truck and start driving toward the Lower East Side parking lot where we've reserved some space.
7:00-10:00pm: In a parking lot with the puffing gun, Dave, and the rest of the MOFAD team. We run over the inventory and make sure everything is in place for tomorrow.
10:30pm: Grab a meat pie from Tuck Shop. I tell the guy who works there to just put something tasty in a bag and hand it to me -- my brain is fried.
11:00pm: At Burp Castle with my wife, having a much-needed beer.
Saturday, August 17: Day of Summer Streets
3:30am: I wake up and go over the final schedule and exhibit checklist. Deep breaths; it's game time. I run over to the parking lot to pick up the puffing gun.
5:00am: We are onsite at Foley Square in Manhattan and we have two hours until the exhibit opens. Everyone moves quickly to prepare and assemble the exhibit.
7:00am-1:00pm: BOOM! BOOM! BOOM! Every ten minutes we set off the puffing gun and the crowds cheer. Kids, in particular, go nuts. Emma, Stef, and a crew of volunteers handle preparing and serving the puffs to a line of people that snakes out to the other side of Foley Square. Dave, Piper and Nastassia run puffing gun operation. I'm on the microphone explaining the historical and cultural significance of the puffing gun, how it revolutionized the breakfast cereal industry, and the science behind puffing. I keep hearing things like "This is so cool" and "I can't believe New York doesn't have a food museum." The day flies by in a blur. Time Out took some excellent photos of the event.
When we close the exhibit down, everyone cheers. We did it. We pulled off the first exhibit of the Museum of Food and Drink and, by all measures, it was a smashing success.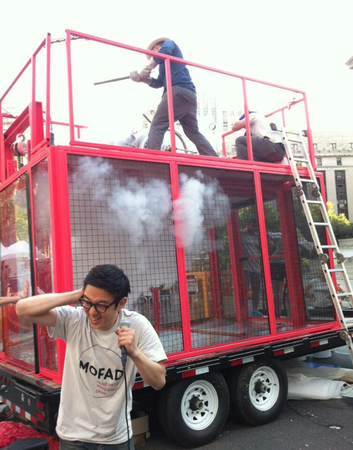 Credit: MOFAD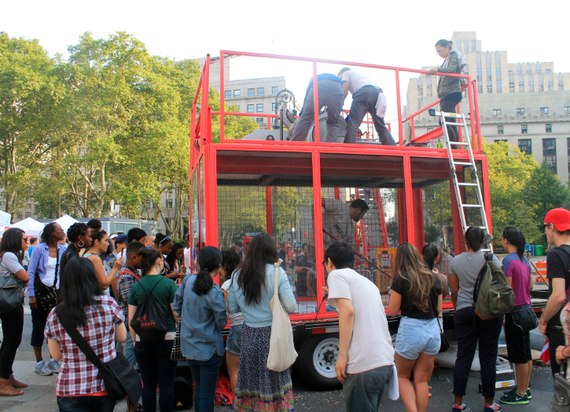 Credit: Isabelle Burnet
2:00pm: I drop the trailer off at the parking lot and throw a couple tarps over it. We need to find a more secure home for this thing eventually, but this will have to do for now.
3:00pm: Emma and I, using the last ounces of our strength, unload everything at MOFAD HQ. We give each other exhausted high fives and part ways.
4:00-5:30pm: I'm in Astoria, Queens, trying to return the pickup truck at Hertz but no one is there to receive it. I spend an hour and a half on the phone with a customer service representative.
7:00pm: Finally, I'm home. I make some dinner and collapse into bed.
See more Food Informants below:
PHOTO GALLERIES
Food Informants