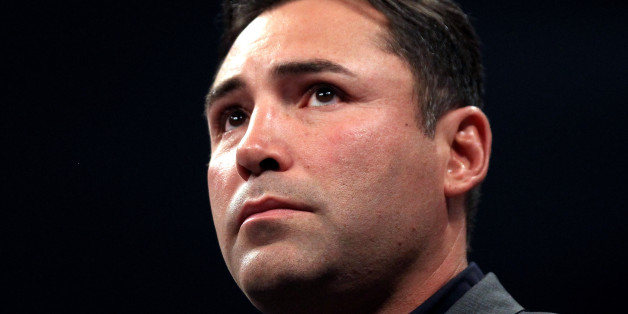 From his office in a high rise office building in downtown Los Angeles, Oscar De La Hoya enjoys a panoramic view of his beloved home town, and the boxing legend can point with precision and confidence to the location of some of the most important landmarks in his life.
But those don't include nearby Staples Center where a life-size bronze statue of the former boxing champion adorns the entrance, nor the gym in East Los Angeles where his career began, not even the Great Western Forum in the distance where he made his pro debut in 1992.
No, the places that are important on a day-to-day basis for the onetime boxing Golden Boy are the locations of the Alcoholics Anonymous meetings he religiously attends, sometimes twice a day.
"I know where all the meetings are, all over the area," he told the Los Angeles Times. "And usually, I'm the first one to raise my hand."
"My name is Oscar," he will say at those meetings, "and I'm an alcoholic."
This is the life of one of the most admired Latino sports heroes and the former world champion who won 10 world titles in six divisions. It doesn't matter that at age 40, De La Hoya has followed up his career by becoming one of boxing's top promoters, nor that he's rich beyond his wildest dreams with Forbes estimating his net value at $175 million.
Oscar De La Hoya has struggled with sobriety since his retirement
As far as Oscar De La Hoya is concerned, the fight goes on, though now it's a personal struggle for sobriety and trying to come to grips with his life after retiring in 2009 after a 16-year career in which he became boxing's most popular fighter.
In 2011, De La Hoya stunned fans when he publicly admitted his drinking, drugs and womanizing, saying his life had spun so out of control that he considered suicide.
"There were drugs," he said in an interview at that time. "My drug of choice was cocaine and alcohol. Cocaine was recent...(But) I depended more (on) the alcohol than the cocaine. It took me to a place where I felt safe. It took me to a place where I felt as if nobody can say anything to me...it took me to a place where I just can reach out and grab my mom."
Cecilia De La Hoya, who had been the most important person in Oscar's life, died of breast cancer while he was training for the 1992 Olympics in Barcelona where he dedicated the gold medal he won to her memory.
And it is obvious that she is still influential in his life as he enters middle age.
Oscar De La Hoya giving back to the community
"My mother (had) strong beliefs about education," he says. "What she really instilled in me is the fact that the more success I have, whether it's inside or outside the ring, the more I have to give back. And those words will always be with me. I'll never stop giving back to as many people as possible."
De La Hoya has been doing that through his foundation he established in 1995 to provide health and educational services to some of Los Angeles' poorest communities.
To that end, he built a state-of-the-art youth center on the site of his former training gym where as a five-year-old he followed in the path of his father and grandfather.
To further honor his mom, De La Hoya has had his foundation fund a neonatal intensive care unit, a labor and delivery center and a cancer treatment center.
Today the former champion is also trying to be a model for athletes who have been in the same situation struggling with addiction.
"Never give up and have a positive attitude," Oscar De La Hoya tells athletes that come to him for advice. "I'm a very positive thinker, and I always have a vision of what's ahead. I make sure that I tackle one obstacle at a time and never spread myself too thin.
"What boxing did for me was teach me to never give up. I've had some tragedies in my life — like the passing of my mother — that made me want to quit. But you can't give up."
De La Hoya says that is one of the life lessons he learned from the ring that is proving useful in his own day-to-day struggle against addiction.
"The fight life, that was easy," he told the Los Angeles Times recently. "This is a battle I have every day. There I was, the Golden Boy — and all the time, I felt like crap."
Originally published on VOXXI as Oscar De La Hoya: I am on a daily fight for my life
EARLIER ON HUFFPOST:
PHOTO GALLERY
BEFORE YOU GO
Latino Olympians And Their London 2012 Medals
PHOTO GALLERY
Latino Olympians And Their London 2012 Medals