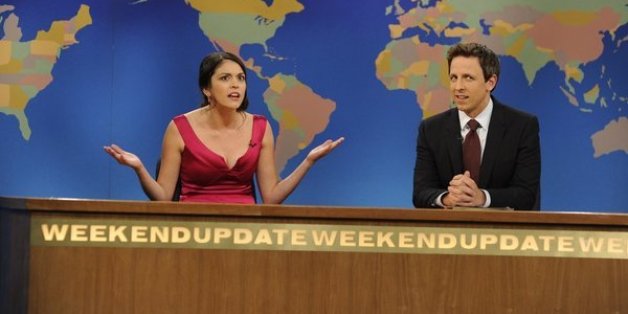 "SNL" is going to be just fine, especially because Cecily Strong is there.
"For [Strong] to have the kind of season she had the year after [Kristen] Wiig left is that thing that makes you confident going into this next season of transition that there's always someone who shows up and does things you've never seen anyone on the show do," Meyers said.
Fred Armisen, Bill Hader and Jason Sudeikis left "SNL" after this past year, Season 38. Meyers will exit during Season 39 to take over "Late Night" from Jimmy Fallon when Fallon moves over to "The Tonight Show."
Meyers praised Strong's characters, including Girl You Wish You Hadn't Started a Conversation With at a Party.
"She did this move where she reached into her purse, checked her Blackberry and shook her head like she didn't want to talk to that person and kept going," Meyers said. "All the writers were talking about it afterward the way baseball scouts would talk if they saw someone throw 101 mph. Her natural ability has kind of blown everybody away."
"Saturday Night Live" Season 39 premieres Saturday, Sept. 28 at 11:30 on NBC.
SUBSCRIBE TO & FOLLOW WOMEN
Get top stories and blog posts emailed to me each day. Newsletters may offer personalized content or advertisements. Learn more