'WTF, Plus Size Manufacturers?' Is Our New Tumblr Obsession
Fashionable plus-size clothing -- or the shameful lack thereof -- is on everyone's minds lately. As Tim Gunn put it, "You've never seen such hideous clothes in your entire life." So isn't it about time someone calls out the designers and manufacturers for the fashion crimes they're committing against curvier women?
Thankfully, someone already is. We've recently become addicted to the Tumblr "WTF, Plus Size Manufacturers?", which was started in March with this founding mandate:
as most plus size women know, clothing fukkin sukks for us. i am going to post some of the most heinous offenders here.
And Roxy, the blogger behind the site, has been doing just that. The site is filled with example after example of the sartorial injustices being wreaked by plus-size manufacturers, retailers and designers. There are questionable clothes -- OK, seriously ugly clothes -- plus other insightful notes, like a plus-size clothing Bingo board (squares include "polyester," "rhinestones," "elastic waist" and "online only") and this observation, posted in April:
So, this picture is actually a couple of years old, but it's something that still happens. It shows the same shirt, EXACTLY the same shirt, but one is from the plus sizes and the other isn't. There is a $14 price difference. THE SAME SHIRT.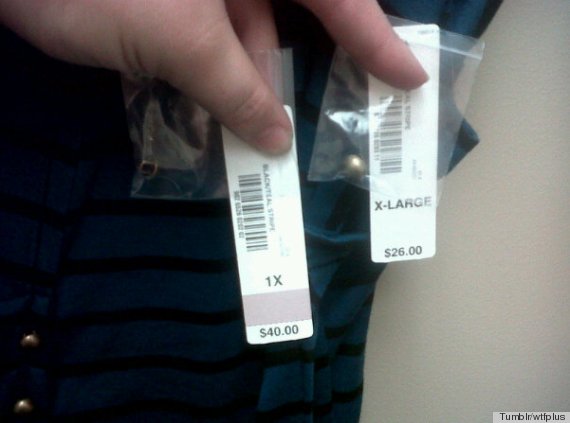 Yeah, WTF. Click over to WTFPlus.Tumblr.com to join in the good-humored outrage -- with more voices, perhaps we can get one step closer to improving the stylish offerings for plus-size women.
Some better options if you're curvy:
Best Stores For Plus-Sized Gals
eShakti.com is a favorite for its vast selection of sizes, ranging from size 0 to 36W, and for all heights from Petite to Tall. Browse the site here.

Macy's offers a large selection of plus-size swimwear (up to a size 24W) and lingerie (bras go up to a 38M). Browse the site here.

This site boasts sportswear, accessories and even swimwear. Browse the site here.

Carmakoma is the place for the edgy, trendy plus-size shopper and also boasts great photos and style tips on its blog. Browse the site here.

FullBeauty.com specializes in bigger bras, plus-size underwear and plus-size sleepwear. Browse the site here.

With an entire section devoted to plus-sized fashion, ASOS offers a wide range of on-trend items, going up to a size US 24. Browse the site here.

OneStopPlus.com sells shoes, lingerie, sportswear, cocktail dresses and even bridal all on one site. Browse it here.

This plus-size only site has corsets, bras, panties and other sexy fun goodies for curvy gals. Browse the site here.

This size not only has gorgeous clothes, but also a feature called ShapeStylist that takes your proportions of your tummy, shoulders, hips, waist, bottom and bust for a better fit. Browse the site here.

Sonsi is the stylish sister of Lane Bryant, and brings together a variety of plus-size brands in one place for sizes 12 and up. Browse the site here.

Although Old Navy sells the majority of their plus-sized items online, they still have a terrific selection of well-priced items, going up to a US 30. Browse the site here.

If you're searching for a good deal, look no further than Forever21, which offers items like brightly colored skinny jeans up to a US 20 and summer dresses up to 3X. Browse the site here.

Salon Z at Saks.com offers high-end designer goods in larger sizes. You can find Michael Kors tops in sizes up to a 3X and James Jeans denim up to a 24W. Browse the site here.

Nordstrom offers a wide selection of merchandise -- from casual to fancy. They have shirts up to 3X and pants up to 24W. b=Browse the site here.

With lots of great business casual options (up to a size 24W), Talbots is a great store to check out if you're in need of classic pieces. Browse the site here.

Gap doesn't have a section online devoted to plus-sized fashion, however, many of their items go up to a size 20 and XXL. Browse the site here.
Want more? Be sure to check out HuffPost Style on Twitter, Facebook, Tumblr, Pinterest and Instagram at @HuffPostStyle.