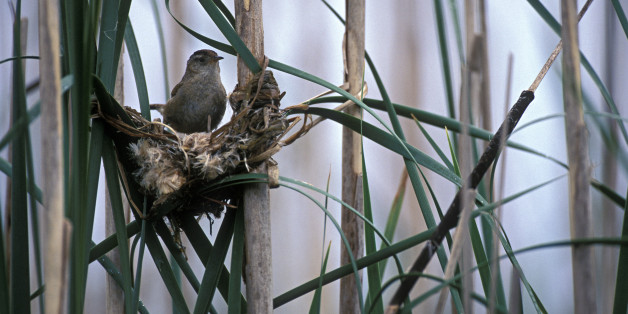 In one of the Bay Area's largest natural restoration projects, biologists and construction crews have been able to turn back the time 150 years on a Napa Valley wetland, almost fully restoring what were once industrial salt ponds into a habitat for endangered species, migratory waterfowl, shorebirds and fish.
The Sonoma Marsh Restoration Project is a 20-year-long endeavor by the U.S. Army Corps of Engineers, the California Coastal Conservancy and the California Department of Fish and Game to revitalize a nearly 10,000-acre network of wetlands and connected habitats. According to the California Department of Fish and Wildlife, the state purchased the land in 1994 from Cargill Salt Co., which had used the area as artificial salt ponds, driving out the natural habitants not suited to the water's highly saline conditions.
Almost completed,the Sonoma Marsh Restoration Project is the Bay Area's largest wetlands restoration project ever undertaken, the San Jose Mercury News reports.
"It's a stunning achievement," Marc Holmes, program director of the Bay Institute, a participating environmental group, told the Mercury News. "It's a phenomenal ecological restoration, one of the most important coastal wetlands projects ever done in the United States."
Upon completion, the project will have restored habitats for some of the area's special status mammals and birds, namely the salt marsh harvest mouse, California clapper rail, and black rail as well as some endangered fish, incluidng the Delta smelt, Sacramento splittail, steelhead trout, Chinook salmon and the Dungeness Crab.
One of the project's final steps, a $10 million, 3.4-mile pipeline, was celebrated Friday for its completion, the Press Democrat reported. The pipeline will bring recycled, treated water from the Sonoma Valley sewage plant to the wetlands

The 550 million gallons a year the pipeline transfers into the former salt ponds will aid in diluting the area's bittern, a highly saline byproduct of salt-making, the Mercury News reports.

PHOTO GALLERY
BEFORE YOU GO
America's Most Endangered Waterways (2013)
PHOTO GALLERY
America's Most Endangered Waterways (2013)