Chicago Storms Pummel Area Leaving A Wake Of Transit Snarls, Property Damage And Injuries (PHOTOS)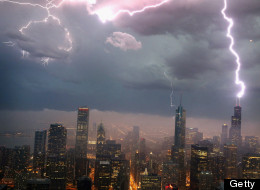 A strong line of summer storms rocked the Chicago area Friday, leaving a trail of injuries, damage and transit delays.
At least two people were critically injured during Friday's storms, including an East Village woman whose roof collapsed on her.
According to WGN, the building next door to the woman's home in the 1100 block of North Ashland was under construction and the storm caused several cinder blocks to fall onto the woman's roof. She was taken to an area hospital and listed in critical condition.
A man on the northwest side was listed in critical condition after he was struck by a falling tree on the 7200 block of West Howard Street, NBC Chicago reports.
Power outages hit much of the area as stormed kicked up around early evening.
More than 150,000 households lost power across ComEd's service area Friday. The Tribune reports some 95,000 homes had power restored by 9:40 p.m., but roughly 32,000 customers remained without power as of 6 a.m. Saturday, according to ComEd.
"It's pretty much all well south and southwest of the Chicago metro area now," National Weather Service meteorologist Ben Deubelbeiss said.
Various reports of hail and even fires that may have been caused by lightning came in Friday evening, according to CBS Chicago. High winds caused Metra Union Pacific Northwest and Union Pacific North lines to be suspended for a time, snarling the evening commute.
The storms also shook up the Taste of Polonia festival and the Jazz fest at Millennium Park Friday, blowing over tents and forcing attendees to run for shelter, according to ABC Chicago.
The storms will help snap a heatwave that gripped the area earlier this week, with Saturday highs of about 80 degrees. According to the Tribune, O'Hare reported record-tying heat Friday with a 96 degree high.
Amid the rain-soaked chaos, plenty of area Tweeters were able to capture some of the evening's most ominous-looking clouds:
Chicago storms that caused heavy damage this afternoon/evening. More to follow pic.twitter.com/zWl4JYvyMd

— Matt Harrison (@MathewSHarrison) August 31, 2013
@Ginger_Zee hi Ginger taken after t-storms rolled through Chicago this evening from my window on north side pic.twitter.com/mvV2SjiFiL

— Tony Healy (@TonyHealy4) August 31, 2013
Some nice mammatus to the east, courtesy of the line of storms approaching Chicago to the south. #wiwx pic.twitter.com/8jfFm6sOSQ

— Steve Paluch (@BrewCityChaser) August 30, 2013