El Consejo Mundial de Boxeo presentó el cinturón de oro que ostentará el ganador de la contienda entre Floyd Mayweather Jr. y Saúl 'Canelo' Álvarez, pactada para el 14 de septiembre en el MGM Grand de Las Vegas, Nevada.
"Este cinturón es único e invaluable, una pieza de colección. No creo que vuelva a haber un cinturón así… fue realizado con tres kilos de oro y piel italiana", dijo a HuffPost Voces el secretario ejecutivo del organismo mexicano, Mauricio Sulaiman.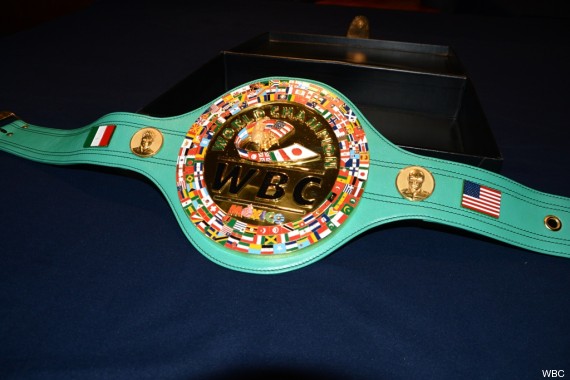 El fajín verde y oro fue elaborado por un artesano mexicano y tardó en completarlo tres meses, pues antes necesitaron certificados que avalaran que el trabajo estaba realizado con oro de 24 quilates.
"Para una pelea extraordinaria que da valor al boxeo, el CMB quiere dar un premio especial", declaró el presidente del organismo, el mexicano José Sulaimán, al mostrar el premio que tiene unas placas con el rostro de ambos protagonistas y que considera sólo habrá una edición del mismo.
Además del cinturón de oro, el CMB ha entregado en el pasado el llamado cinto diamante en media decena de peleas titulares con carácter especial y que ha sido valuado en unos 60 mil dólares.
Sulaimán señaló que el duelo entre 'Canelo' y Mayweather está lejos de ser considerado el duelo del siglo, pues han habido varias peleas de mayor importancia, pero destacó que con mucha facilidad esta será el encuentro del año.
Fotos de 'Canelo' vs. Mayweather
SUBSCRIBE AND FOLLOW
Get top stories and blog posts emailed to me each day. Newsletters may offer personalized content or advertisements.
Learn more