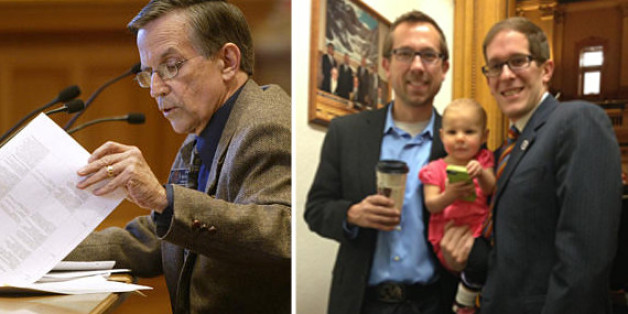 While many Colorado conservatives were polite and expressed their congratulations to Colorado's first gay Speaker of the House, Mark Ferrandino, upon the recent adoption of his daughter, at least one was downright vulgar.
"To deprive this little girl of a loving mother for the sake of self-gratification is perverted," Schultheis wrote. "I would place it in the category of deliberate child abuse."
But thankfully, Schultheis was in the minority.
While we rarely haven't always agreed with Speaker Ferrandino's policy positions, we agree that he's got one cute kid. He and partner Greg Wertsch have formally adopted the little girl, Lila Augusta, [who] the pair had been fostering since last year. Congratulations to the family!
At an adoption party after the formal hearing that made Ferrandino and his his partner Greg Wertsch the official fathers of 1-year-old Lila Augusta, The Denver Post reported that former House Speaker Frank McNulty (R-Highlands Ranch) was in attendance. McNulty was infamous in the 2012 legislative session for allowing the clock to run out before the civil unions bill could be debated and declaring an "impasse," killing the bill for the second time.
Colorado's civil unions bill was finally passed in 2013 and signed into law by Colorado's Democratic Governor John Hickenlooper in March.
SUBSCRIBE AND FOLLOW
Get top stories and blog posts emailed to me each day. Newsletters may offer personalized content or advertisements.
Learn more