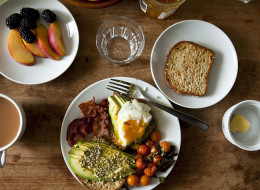 With fall rolling in, and the weather beginning to cool, we're finally excited to get back into the kitchen to do some real cooking and baking. But after so many months of trying to keep the oven off, we're all in need of a little recipe inspiration. Luckily, we've got 10 food blogs we're loving right now that will do just that.
We all have our go-to food blogs, but when you're looking for something a little different it helps to try a new source for ideas. These top 10 food blogs of September are just the place to start -- whether you're looking for desserts, dinners or cocktails.
Want to read more from HuffPost Taste? Follow us on Twitter, Facebook, Pinterest and Tumblr.
Best Blogger Of September
greensandseeds.com What we like most about Greens and Seeds -- apart from the amazing recipes -- is the fact that you can search the site based upon season, diet or course. It makes finding what you're looking for so much easier.

cannellevanille.com Cannelle et Vanille has been blogging for a long time, but we're continually impressed by her inspiration. If you don't already read this blog, you must start.

pinkpatisserie.blogspot.com For stunning desserts, Pink Patisserie has got your back.

inspiringtheeveryday.com This blog really does inspire us everyday. You don't want to miss out on these sweet and savory recipes.

alwayswithbutter.blogspot.com Only Julie at Always With Butter can turn something as simple as peach marmalade into a recipe we cannot wait to make.

theroastedroot.net The Roasted Root is dedicated to nutritious and healthy recipes -- and they're all delicious too.

sassy-kitchen.com This is how Sassy Kitchen does brunch. Need we say more?

katieatthekitchendoor.com You're always in good hands with Katie at the Kitchen Door when it comes to cocktails, dinners and desserts.

thegoudalife.tumblr.com The Gouda Life can be counted on to take a classic recipe and make it so much better -- like adding pomegranates, mint and mozzarella to baba ghanoush.

crumbblog.com Reading Crumb is like having a conversation all about food with a great friend.