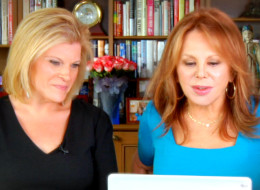 Career expert and author Tory Johnson told me how to maintain your diet when you eat at a restaurant when she dropped by Mondays With Marlo. If people are pressuring you to order a high-calorie drink or unhealthy food, stick to your guns. They'll move on quickly. Plan ahead -- think about what you're going to order before you get to the restaurant. If you do slip up and fall off the wagon, day one can start any day. Your diet isn't ruined! Forgive yourself and pick right back up where you left off.
Learn more about Tory's remarkable weight loss by reading her book, "Shift with Tory."
Click here for the full interview.
For more advice on getting slim in a healthy way, see Tory's weight loss tips:
Tory Johnson's Weight Loss Tips
Don't grab for a snack every time you feel hungry. Sometimes, going for a walk will take your mind off of food and the hunger will disappear.

Foods that are marketed as low-fat are typically loaded with sugar, which means they're high in carbohydrates. Avoid them at all costs!

Eliminate packaged foods from your diet and don't eat anything that contains ingredients you can't pronounce. Focus on preparing fresh foods instead.

Decide that certain things are non-negotiable when you're trying to lose weight. If "cheat days" lead you into a spiral of unhealthy eating, don't allow yourself to take them. If you are rewarding eating healthy with bad foods, it is akin to an alcoholic celebrating a month of sobriety with a beer.

Friends and family will often push food on you when you're starting a diet. Most people have good intentions, but you have to stand your ground. Eat healthy and avoid having that extra serving because of peer pressure.

If you're sneaking out for a midnight snack, take a pause and reflect on something else besides food. Painting your nails is one tactic that will give you a few moments to think, and prevent you from reaching into a bag of chips.

While you shouldn't force your family into participating in your new lifestyle, it's good to keep an open dialogue about your weight loss. They may not be on board with eating healthier and ramping up their exercise right away, but once they see you succeeding, they may join in.

Instead of raiding the airport newsstand for candy bars, bring your own healthy treats when traveling. Pay attention to portion size – it's best to carry little packages that contain one serving so you're not tempted to overeat.

If you're going out to eat, look at the menu beforehand and figure out what you're going to order. Once you're at the restaurant, stick to your guns! It doesn't matter what anyone else orders – you don't want to go home feeling guilty for getting derailed from your diet.

If you slip up and get off track, pick yourself right back up. Even if you've indulged in a calorie-packed meal, your diet is not completely ruined. Day one can start any day.

Why is it so important to lose weight right now? Figure out the reason you're motivated to get in shape and put reminders everywhere.

Stick to it – you can't go back to your old ways. Eat a little bit less and step up your exercise a little bit more. Sometimes it just takes a little bit of movement to get the momentum going.

Remind yourself that you are in control of what you put into your mouth. Nobody is coming to rescue you. Realize that when you falter, you have no one to blame except yourself and when you triumph, you have yourself to thank.

There are a million excuses and rationalizations for accepting an unhealthy weight, but these won't take the pounds off. Stop putting the blame on other people and take ownership by focusing on making positive changes to your body.
Add Marlo On Facebook:
Follow Marlo on Twitter:

Weekly Newsletter

Sign up to receive my email newsletter each week - It will keep you up-to-date on upcoming articles, Mondays with Marlo guests, videos, and more!

Sign up here