Drake: 'I Have Aspirations To Be Marvin Gaye' (VIDEO)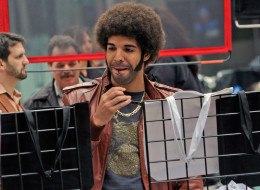 This week Drake took to his Twitter account to reveal the tracklisting to his forthcoming September 24 album, "Nothing Was The Same." In addition to buzz-worthy singles "Hold On, We're Going" and "Started From The Bottom," fans can also expect Jay Z to be featured alongside the Toronto-native on the track titled, "Pound Cake."
And while the 26-year-old's previous two efforts, "Thank Me Later" and "Take Care" contained tracks with both rapping and singing, he recently admitted during an interview with MTV News that he will continue with his trademark formula as he aspires to be legendary soul crooner, Marvin Gaye.
"My biggest thing is...if you wanna listen to Drake music for the rest of your life — I welcome it, I want you to listen to it, I want you to be a part of it. Just don't ever be surprised when I'm singing or using melody," he said. "I'm doing that on this album. This album is not some straight rap album, I'll never do a straight rap album. That's not how I came into this and that's never what I'll do. I make songs for the people."
"I have aspirations to be Marvin Gaye in the back of my head. So I just want to sing the world's triumphs and problems on one record and hopefully 'Nothing Was The Same' [can be] the soundtrack to their life."
Check out more of Drake's interview segment in the clip above.