New data from the White House Council of Economic Advisers suggests that President Obama's Affordable Care Act isn't having the detrimental effect on workers some feared it would.
According to the White House, nine out of 10 jobs that have been created since Obamacare became law in March 2010 have been full-time positions. Furthermore, there's no evidence that employers are cutting back worker hours to less than 30 hours per week, which is the threshold the health-care law uses to define a full-time position. (Story continues below chart)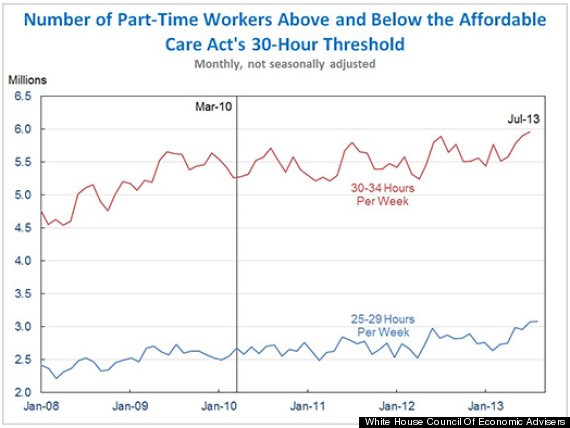 Beginning in 2015, Obamacare will require companies that have 50 or more employees to provide health coverage for all full-time workers, or pay a fine. Critics of the law have said that it may cause employers to drop benefits, discourage businesses from hiring full-time workers and force some employers to cut full-time workers to part-time.
The White House data released Friday is the most recent evidence that many of these concerns were overblown.
In May, a poll conducted by the International Foundation of Employee Benefit Plans, an organization of human-resources professionals, showed that despite concerns about rising health-care costs, more than two-thirds of companies definitely plan to offer health benefits to full-time employees. The same poll found that only 0.5 percent of companies said they would definitely discontinue health benefits.
Many restaurant chains such as Wendy's, which initially predicted Obamacare would cause a spike in operating costs, have since cut back their estimates of what the health-care law would cost, according to the Wall Street Journal.
Last year, Darden Restaurants, which owns restaurant chains including Olive Garden and Red Lobster, said it was going to make more workers part-time in an effort to skirt the law, but later backtracked on that plan due to public backlash.
That said, other restaurant chains such as White Castle say they are considering only hiring part-time workers to cut costs in light of the law.
Also on HuffPost:
Loading Slideshow
McDonald's

<a href="http://blogs.wsj.com/cfo/2012/07/23/mcdonalds-cfo-sees-up-to-420m-in-new-health-care-costs/" target="_blank">Peter Bensen, McDonald's chief financial officer</a>, said on a conference call last year that Obamacare will cost the company and its franchisees $140 million to $420 million per year. (Photo by Justin Sullivan/Getty Images)

Whole Foods

<a href="http://www.huffingtonpost.com/2013/01/16/whole-foods-ceo-obamacare-fascism_n_2488029.html" target="_blank">John Mackey, CEO of Whole Foods, told NPR</a> in January that Obamacare is "like fascism." <a href="http://www.huffingtonpost.com/2013/01/17/whole-foods-fascism_n_2496603.html" target="_blank">He then told HuffPost Live</a> that he regretted making that comparison. (Photo by Mark Wilson/Getty Images)

Papa John's

<a href="http://www.huffingtonpost.com/2012/08/07/papa-johns-obamacare-pizza_n_1752126.html" target="_blank">John Schnatter, CEO of Papa John's</a>, said in August that Obamacare will cost the company $0.11 to $0.14 per pizza. <a href="http://www.huffingtonpost.com/john-h-schnatter/papa-johns-obamacare_b_2166209.html" target="_blank">But he has maintained</a> that Papa John's offers and will continue to offer health insurance to all of its employees. (Photo by Diane Bondareff/Invision for Papa John's International/AP Images)

Cheesecake Factory

<a href="http://www.huffingtonpost.com/2012/12/04/cheesecake-factory-ceo-david-overton-obamacare_n_2236673.html" target="_blank">David Overton, CEO of the Cheesecake Factory, told CBS</a> in December that Obamacare "will be very costly" and "most people will have to [raise prices] or cheapen their product" in response. Dina Barmasse-Gray, the Cheesecake Factory's senior vice president of human resources, said in a statement to The Huffington Post: "We have the highest regard for the wellbeing of our staff members, and have offered health insurance to our staff members who work at least 25 hours per week for many years. Because of our long history of providing health benefits, and based on our current analysis of the new requirements, we do not believe the Affordable Health Care Act will have a material impact on us."

Boeing

<a href="http://online.wsj.com/article/SB10001424127887324392804578358540464713464.html" target="_blank">Boeing lobbied unsuccessfully</a> against a new Obamacare fee, according to the Wall Street Journal. And it is generally concerned about Obamacare's costs. "Boeing agrees with the intent of the Affordability Care Act – to provide increased access to coverage, to improve quality, and in the long run, to help manage the overall cost of the health care system," Boeing spokesman Joseph Tedino said in a statement provided to The Huffington Post in March. "However, while the details and implications of the ACA continue to emerge, the net financial impact to Boeing since the inception of law and for the foreseeable future is negative." (Photo by Tim Sloan/AFP/Getty Images)

CKE (Owner Of Hardee's)

<a href="http://www.businessweek.com/news/2012-09-21/hardee-s-owner-ceo-says-2012-ipo-unlikely-as-costs-rise" target="_blank">Andrew Puzder, CEO of CKE, told</a> Bloomberg Businessweek last year that he plans to respond to Obamacare by selling cheaper meats and hiring more part-time workers. <a href="http://www.newsmax.com/RonaldKessler/Hardee-s-CEO-Obamacare-Puzder/2012/09/20/id/456919" target="_blank">He also told Newsmax</a> he plans to build fewer restaurants in response. (Photo by Erik S. Lesser/Getty Images)

Jimmy John's

<a href="http://www.huffingtonpost.com/2012/11/15/jimmy-johns-ceo-obamacare_n_2137679.html" target="_blank">Jimmy John's CEO Jimmy John Liautaud told Fox News</a> last year that he plans to cut his workers' hours in order to avoid having to offer them health insurance under Obamacare. "We have to bring them down to 28 hours [per week]," he said. "There's no other way we can survive it."