Chandler Lacefield, a Texas teen, just surprised her friend with a very expensive gift -- and the story behind it will warm your heart.
According to NBCDFW.com, Lacefield and MacKenzie Sterner first became friends in March, when they both joined the girls' track team at their high school. Lacefield noticed that Sterner often had trouble getting to and from activities because her family could only afford one vehicle, and her mom needed it to commute to her job.
Lacefield wanted to help, so she decided sell her own Jeep -- a graduation gift from her parents -- to buy her friend's family the second car they so desperately needed.
After some negotiation, her parents agreed to her plan, on the condition that she used the money to buy two, cheaper cars: one for her, one for her friend.
"For us, it was gonna be all on her. You find the cars, cut the deal and I'll sign the papers," Lacefield's father told NBCDFW.com. "My daughter wore me out."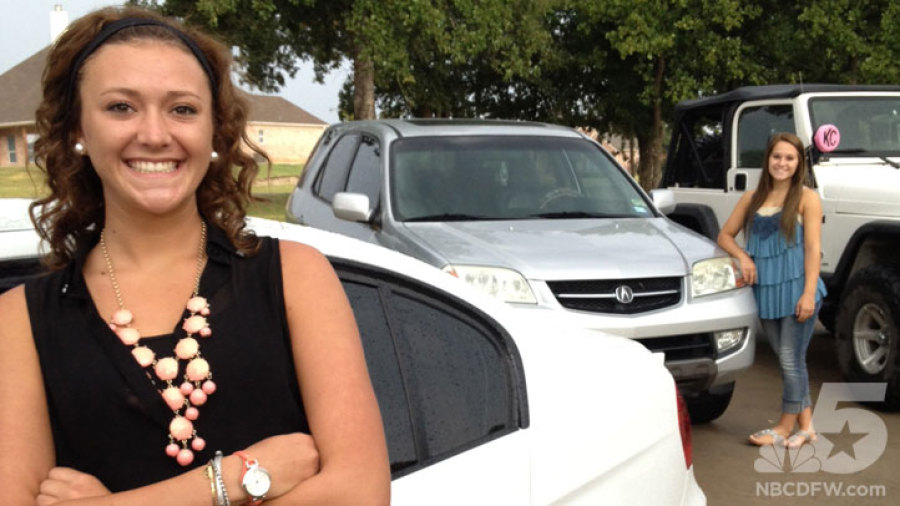 Click here to find out Sterner's reaction to the generous gift and check out more photos of the girls with their new cars.
In other feel-good stories this week, an incredibly brave high school student is making waves in his community for kicking butt on the football field less than a year after a leg amputation.
"It started hurting [during the game], but it was nothing I couldn't push through. The feeling of me being out there was overwhelming … taking my mind off the pain," the teen explained to the Billings Gazette.
Another man who has been making waves this week -- both literally and figuratively -- is a primary teacher from India, who is so dedicated to his students that he apparently swims across a river every day to get to work.
What's the most inspiring story you've heard this week? Share it in the comments or tweet @HuffPostTeen!
Also on HuffPost:
Loading Slideshow
Blake Michael (Tyler, "Dog with a Blog")

"My favorite summer memory of 2013 is my black light neon birthday party. I rented some black light panels and a fog machine. A bunch of my friends came over and we hung out outside, blasted music and painted everything with neon paint. It was a crazy fun mess!! Hanging out with friends is the best part of summer."

Caroline Sunshine (Tinka, "Shake It Up")

"My favorite summer memory was my trip to Hawaii with my family. I learned to surf on the North Shore of Oahu and jumped off a huge rock at Waimea Bay."

Debby Ryan (Jessie, "Jessie")

"Writing, swimming, hiking, kayaking, hanging with Emma, making and writing music, music."

G Hannelius (Avery, "Dog with a Blog")

"My summer was full of fun! From a spectacular trip to Italy, summer BBQ's, bike riding on the beach, and flying high in the summer sun with friends. It was a summer I'll never forget."

Jake Short (Fletcher, "A.N.T. Farm")

"I now have a driver's license for the first time. I just got my first car! It has been a great summer."

Karan Brar (Ravi, "Jessie")

"This summer I didn't travel but I had some family visit! Some of my family from Australia and India came to visit and we went to Disneyland! Also, I made a lot of new friends which was amazing! And lastly, I decided I wanted to get into music so I bought a bass guitar and I'm learning how to play it!"

Raini Rodriguez (Trish, "Austin & Ally")

"One of my favorite summer memories is from this past summer when I turned 20!"

Stephanie Scott (Lexi Reed, "A.N.T. Farm")

"On my summer vacation I got to visit Alaska and it was totally awesome! We saw lots of snow, went on a dog sledding expedition and saw a part of the country which is so much different than where we live. We had so much fun in Alaska!"

Tenzing Norgay Trainor (Parker, "Liv and Maddie")

"I've had a very busy summer in Los Angeles working on the show, but I've had both family and friends visit. My uncle visited from Bhutan with my aunt and cousins and we had a great time showing them all around Los Angeles. They brought three friends with them who had never been to the United States before. The daughter who is 17 years old, bought a last-minute ticket to the Justin Bieber concert and it was her first concert in the United States. It was a lot of fun watching someone see the United States for the first time. After they left, friends from Florida came to visit and we showed them around Los Angeles too. We visited a lot of sites around the city, including zip-lining in Venice Beach, hiking in Malibu, all the while singing at the top of our lungs in the car as our parents drove us around."

Zendaya (Rocky, "Shake It Up")

"This summer I've been in Canada shooting a movie, but one of my favorite summer memories is when I traveled with my Grandma and Poppi to British Columbia! I met my Grandma's family there and we traveled via train all throughout the countryside! It is one of my best memories of my Poppi, who passed away about 6 years ago."