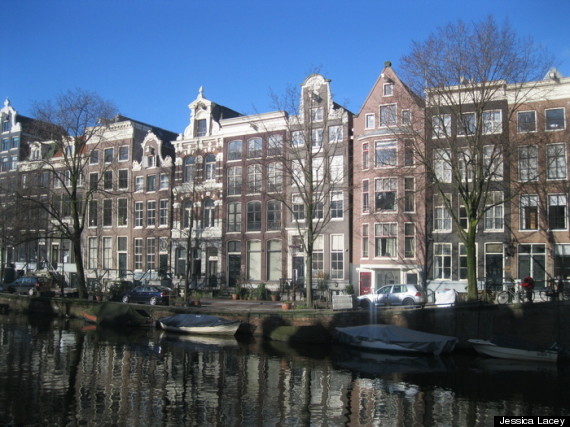 This week's Moment of Travel Zen comes to us from Jessica Lacey of Ireland.
I used to live near Amsterdam so it is one of my favourite cities to revisit. Once you get off the beaten path a little bit, it is one of the most elegant and serene cities in Europe, with fantastic museums, and lovely little 'gezellig' cafes to watch the world cycle by in.
With its serene canals, vivid tulips, and charming Dutch architecture, Amsterdam is a city filled with zen.
Where have you traveled for a moment of zen? Email travel@huffingtonpost.com with your travel zen or submit below.
"On the canal. Like this picture because you can see the canal, awesome houses and the people on the floating raft behind me."

"(Trying) to be a model on the canal."

"Taken in front of a hostel on Gravelandseveer street"

"This is my favourite Amsterdam photo from February of this year. It captures the lovely Dutch winter light."

"Always enjoy my getaways to Amsterdam. Last time, I did a sidetrip to Haarlem and Delft, too. Great place! Look forward to going back!"

Queensday, 2013

Queensday, 2013 See more of Queensday at Anders Lewis' blog.

And to see our past featured Moments of Travel Zen...
-David Freifeld Durham, North Carolina @defreifeld

-David Freifeld Durham, North Carolina @defreifeld

Taken near Raleigh, North Carolina in July of this year. -Anna Marie Jehorek www.PullOverandLetMeOut.com

These are Sunflower fields seen on the road from Solapur to Bijapur in India. The burst of yellow is simultaneously soothing and blinding in the otherwise arid land. The photo was taken in Nov 2012 when I was on my way to Hampi by road. -Archana http://yenforblue.blogspot.in/2012/12/the-best-way-to-really-know-our-country.html

Overflying the rice fields outside of Narita Japan on final approach. Note the airplane shadow. -Jeffrey Roehr

The drumlins of County Monaghan, Ireland (taken near Castleblayney) -Jill Guest

-Miranda Andersson

-Sarah Steegar

-David Freifeld Durham, North Carolina @defreifeld