Arrests have been made months after a brutal beating of a former Marine who stepped in to save a 14-year-old boy and his father being bullied by three men.
Wen Jones, a 43-year-old father of two, was leaving Juno Beach Park in Florida on May 19 when he noticed a pack of 20-year-old men harassing a boy and his father, the Sun Sentinel reported. Sensing the men were about to attack, Jones got involved.
"I couldn't stand there and watch this older guy and kid get beaten up," Jones said.
The three men, all athletically built, allegedly turned their attention to Jones, who was urging them to calm down. Jones described being knocked unconscious by one of the men.
"When I came to, I was being beaten in the face," he said.
Jones suffered a concussion that he said still makes him feel foggy months later, along with fractured bones and an eye swollen shut. The former Marine required surgery after the attack.
Tyler Dylan Carswell, Eric Michael Deiter and Cody Moore Roon are now facing aggravated battery charges, upgraded to felonies because of the severity of Jones' injuries, according to ABC News.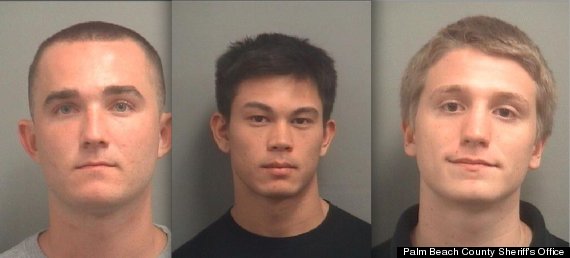 From left to right: Suspects Tyler Carswell, Cody Roon, Eric Deiter

The initial victim of the men, police say, was a 14-year-old boy named Zion. The trio allegedly kicked sand in his face and called him names. While Zion waited for his father to pick him up, the men continued their harrassment. That's when Zion's father, 55-year-old Leroy Wright, got involved, asking the men to leave the beach.
"I see that these guys were not backing down, and I literally had to keep them at bay, and I looked up and here was Mr. Jones," Wright said in an interview with WPBF.
Roon, Carswell and Deiter ran away after the beating, but thanks to witnesses taking cell phone footage of the incident, along with getting their license plates numbers, police tracked them down.
On Wednesday, authorities arrested the last suspect in the beating after arresting the other two suspects just last week.
Wright, who has not had a chance to see Jones since the incident, expressed his appreciation.
"I feel like this man literally risked his life, because he saw a situation that was bad, that he stepped up for, when you got your average people standing around videotaping and nobody stepped in," Jones said. "I am so appreciative that out of all the people that was standing around on the beach that day, that he was the only one that stood up against these guys."
Jones said despite his injuries, stepping in and helping the boy and his father was worth it.
"I'm not happy to have been injured pretty severely, but at the same time, I ask myself, would I do it again? You know, it was the right thing to do, so I probably would," Jones said.
Also on HuffPost:
Loading Slideshow
Granny Lulu Campbell

A pair of armed were in for a surprise when they found themselves in a shoot-out with a 57-year-old grandmother. Police said that Lulu Campbell drove to her daughter's house and dropped off her grandson on April 21, 2012, when someone demanded money outside her car, threatening to shoot her. Campbell says the man fired at her, missing, and she surprised them by firing back, striking him in the chest. Her truck sustained eight bullet holes in the hood, one in the grill. Both front side windows were destroyed. A second man fled after she shot at him.

Pudding the Cat

On February 8, 2012, just hours after bringing 21-pound cat Pudding home from the Humane Society, Amy Jung of Sturgeon Bay, Wisconsin had a diabetic seizure in her sleep. Pudding immediately sensed that Jung was in trouble, batting and biting at her face until she briefly regained consciousness. Pudding then darted into the bedroom of Jung's son, Ethan, and pounced on his bed until he awoke. Ethan called for help thanks to the hefty cat's fast thinking. Doctors agree that had it not been for Pudding's actions, Jung likely would not have survived the night.

Jeremy Wuitschick and Johnny Wood

On April 9, 2012, seventh graders Jeremy Wuitschick (pictured) and Johnny Wood noticed something was clearly wrong with their bus driver. As the driver suffered a medical emergency and became unable to control the bus, The Milton, Wash. student grabbed the wheel and successfully drove the bus to safety. Meanwhile, Wood performed CPR on the unconscious driver.

Rita Lawlor

7-year-old Rita Lawlor knew what she had to do when she found her mother unconscious: slap her with a piece of pizza. When that didn't work, young Rita kept her cool, called 911, and stood outside on the lawn until help arrived. Rita received an award from the Sarasota County (Fla.) Fire Department for her heroic action in January 2012.

Helen Collins

On April 2, 2012, 81-year-old John Collins suffered a heart attack while flying his Cessna twin-engine plane over Wisconsin. His wife, Helen, 80, was in the passenger's seat. Helen had no pilot's license, and had only undergone basic take-off and landing training thirty years prior. But with fuel running low and the right engine out, Helen calmly landed the plane, with assistance from aviation officials. Tragically, John Collins passed away that day. Helen suffered a back injury and cracked rib, and has since gained national attention for her unbelievable poise and control.

Paxton Galvanek

The next time someone tells you video games are a waste of time, tell them to talk to Paxton Galvanek. In November 2007, he witnessed an SUV roll off the highway and rushed to help. The North Carolina man not only pulled one passenger from the wreckage, but, when he found a second passenger bleeding profusely, Galvanek was able to control the bleeding using a towel. How did Galvanek know what to do in this situation? He says he got his first-aid know-how by playing the "medic" training level in <em>America's Army</em>, a video game released by the US Army as a recruitment tool.

Pinky the Dog

When 9-year-old Richie Bragg was attacked in Aug. 2010 by a swarm of bees, his 18-year-old boxer puppy, Pinky, noticed her owner was in distress. Pinky leapt onto the scene to distract the bees from Richie, taking over 40 stings for the boy. While getting attacked by a swarm of bees is bad news for anyone, it turns out that Richie was in special need of protection: He not only is allergic to bees, but also has a condition preventing his blood from quickly clotting, meaning that Pinky's intervention could well have meant the difference between life and death. Pinky, coincidentally, was also allergic to bees, and suffered an anaphylactic reaction before reaching the vet. Fortunately, both boy and puppy completely recovered.

Harry Trombitas

As an FBI agent, Harry Trombitas may not strike most people as an "unlikely" hero. What is unlikely, however, is the legend's tactical weapon of choice: comedy. By endowing wanted suspects with nicknames like the "Droopy-Drawers Bandit" or "Mullet Man," Trombitas not only entertained the public, but drew the public eye to important details that ultimately helped catch the crooks. Other memorable suspect nicknames include the "Enviro-Friendly Robber," who toted a reusable grocery bag to carry off stolen goods; and the "Dirty Bieber Bandit," who got his moniker after a witness described him as looking like Justin Bieber, "only dirty." Trombitas officially retired from the FBI on Monday, April 30, after almost 30 years with the agency.